Ask people to desist from encroaching temple lands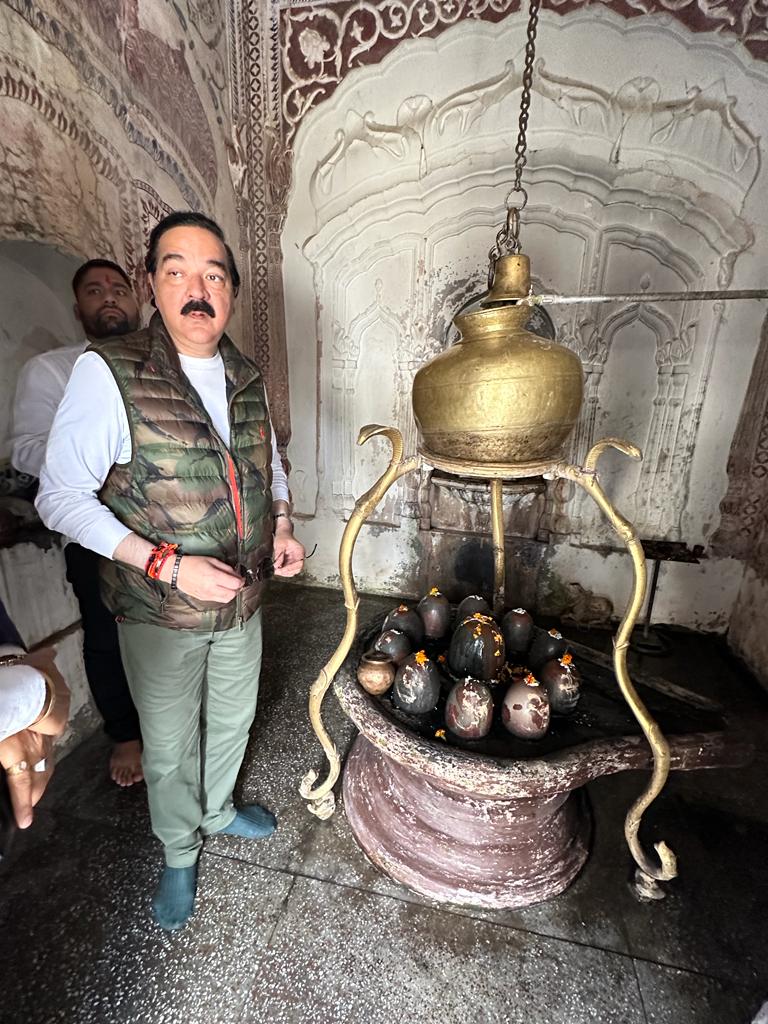 JAMMU, March 24: In view of the upcoming Ram Navmi Festival, M.K Ajatshatru Singh, Trustee of J&K Dharmarth Trust and former Minister today conducted a visit to Ram Ji Temple at Village Sagoon in Block Dansal, district Jammu.
Ranvijay Singh, Trustee, Ashok Kumar Sharma (SSP Retd), Secretary and Varinder Singh Jamwal, Additional Secretary of the Trust accompanied the Trustee.
M.K Ajatshatru Singh performed Pooja at the Ram Ji Temple, Sagoon and prayed for peace and prosperity of the Union Territory. He took stock of the infrastructure and facilities besides holding discussions on improving the facilities to make this temple more comfortable and splendid for the visiting devotees. He laid stress upon the priests to ensure that every devotee who enters this temple returns with complete knowledge of the history, significance and other details about this temple as it is vital for disseminating information among the masses about the rich cultural heritage of J&K.
M.K Ajatshatru Singh also inspected the temple premises and raised serious concern over the encroachment of the Trust land in the vicinity. He said that the Trust want to develop a beautiful park for the tourists due to lack of any facility for visiting tourists from Jammu to Sagoon.
M.K Ajatshatru Singh made it clear that Dharmarth Trust will make all out efforts to get back its property sooner than later and those who have illegally trespassed or grabbed the land of the Trust should be put on task as per the law. He said that no one will be spared for the illegal act of grabbing temple's land. He however asked the people to desist from such unwarranted acts as this will land them into deep trouble.
M.K Ajatshatru Singh categorically said that the Ram Ji Temple in Sagoon is an ancient temple and Trust is duty bound to develop this temple to ensure state of the art facilities to the visiting devotees.
Later, M.K Ajatshatru Singh along with Ranvijay Singh and others visited Shiv Temple, Toote Di Khui in Bajalta; Shiv Temple Dansal and Shiv Temple Nagrota and took stock of the facilities for the devotees.
M.K Ajatshatru Singh laid stress for saving water bodies in Totan Di Khui in Bajalta and also for their beautification, adding that water conservation is a social and spiritual duty of every person.
Meanwhile, M.K Ajatshatru Singh held several public meetings at Sagoon, Totan Di Khui in Bajalta and Dansal and took stock of the problems being faced by people of the area. He assured to take up their issues with the authorities concerned for early redressal.
Kripal Singh Ex Sarpanch, Kama Shadgal Block Nagrota, Sarpanch Sagoon Ashwani Kumar and Sarpanch Faqir Singh, Sidhra Block Nagrota were also present in the meetings.
(NOTE: PRESS RELEASE PUBLISHED AS RECEIVED)