JAMMU, 21st January 2023: The Jammu & Kashmir Academy of Art, Culture, and Languages (JKAACL), under the guidance of Sh. Bharat Singh (JKAS), Secretary (JKAACL), in collaboration with the Directorate of Tourism Jammu and Mubarak Mandi Jammu Heritage Society (MMJHS), has successfully organised a cultural evening at Mubarak Mandi complex celebrating rich traditions of Dogra Virasat.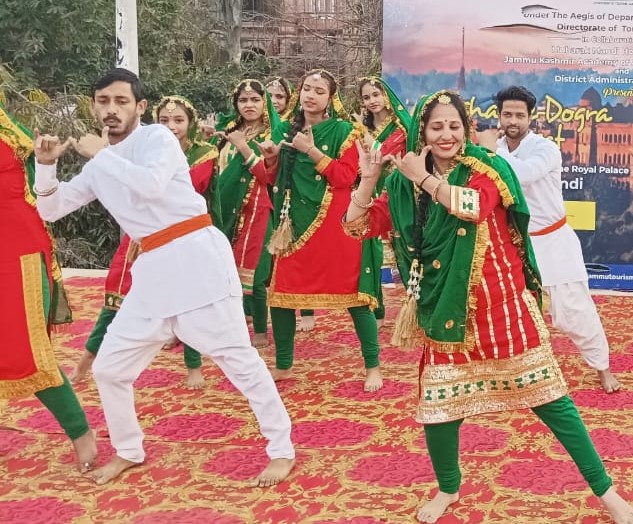 The cultural evening was organised under "Jashn-e-Dogra-Virasat." The key highlight of the event was Dogri/ Punjabi traditional songs by Nirbhay Slathia  and Seema, a celebrated folk artist , They enthralled the audience with their songs. This was followed by Dogri dances presented by the Suksham Guleria and group on popular dogri songs, which were equally enjoyed by the audience who enjoyed every bit of the function.
The highlight of the programme was the Kud folk Dance by Mukhtyar Singh and Party from Reasi. All the artists spellbound the audience with their power-packed performance of Dogri songs.
Mr. Sat Salarvi with his typical Dogra  art of anchoring kept the audience engrossed during the programme .
These programmes aim to revive the rich and vanishing vernacular culture of Jammu. The youth, in multitude, is highly encouraged to participate in these programmes to witness the grandeur of the regional heritage. The Cultural Academy's effort in promoting cultural sensitivities is receiving praise from the art and culture connoisseurs of the region.