SAMBA, Jan 21: Commissioner Secretary, Forest, Ecology and Environment, Sanjeev Verma today inaugurated Biodiversity Park at Purmandal area of Samba Forest Division over an area of 15 Ha.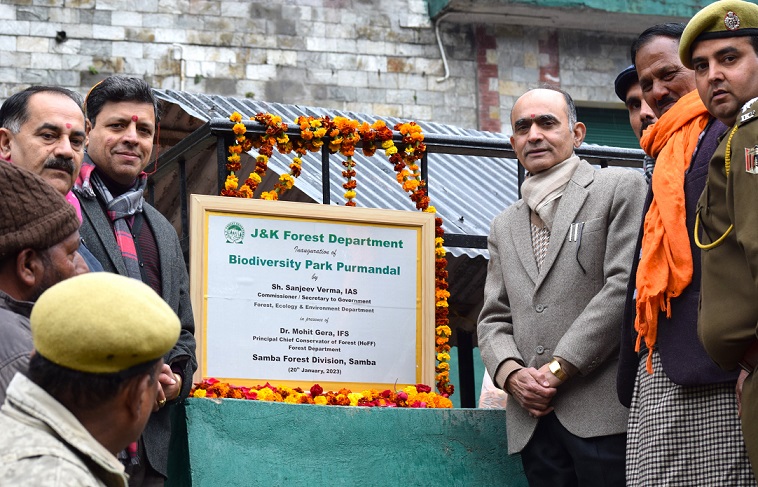 The Biodiversity Park was established with an aim to conserve the biodiversity of the area along with ecology viz. soil & water conservation and disseminate awareness among the visitors and nature lovers on biodiversity.
Dr. Mohit Gera, Pr. Chief Conservator of Forests (HoFF) and Chairman, J&K Biodiversity Council, Dr. T.S. Ashok Kumar, Director, Department of Soil and Water Conservation, B.M. Sharma, Addl. Pr. Chief Conservator of Forests, Jammu accompanied the Commissioner Secretary.
One Pond, Water Harvesting Structure, Vatikas of Herbal plants, viewpoint etc. have been developed in the said Biodiversity Park. In addition, a Samriti Van has also been established, where one can plant a sapling/tree in the memory of their loved ones.
Commission Secretary emphasized for the further development of Biodiversity Park in the next financial year by way of augmenting biodiversity in its live form, landscape improvement, water points, more viewpoints, etc. following an integrated approach. He also inspected Forest Nursery Purmandal and reiterated that proportion of nursery stock of indigenous, rare, threatened, endangered and medicinal plants shall be increased for the eco-restoration works as well as for public distribution.
PCCF (HoFF) stressed on the development of whole Devika catchment on watershed approach along with Department of Soil & Water Conservation by way of planting saplings of local species alongwith the construction of water harvesting structures viz. Crates, Cribs, DRSM etc. for water conservation and augmentation of groundwater. These measures will augment the moisture regime of the catchment and enhance presence of micro flora and fauna. He also directed DFO Samba for covering all the villages under the program 'One Beat Guard, One Village' 'Ped Lagayen Beti Ke Naam' under 'Har Gaon Haryali' campaign in next two to three years also, so that greening of non-forest land is enhanced.
Forest Department initiated development of Biodiversity Park last year and plan is to continue enriching the area with planting of local species such as Acacia, Dalbergia, Jamun, Bamboo, Palash, Bauhinia, Simbal, Ber, Peepal and Bargad etc. creation of ponds and Water Harvesting Structures during the current year as well as in coming few years. The department along with Department of Soil & Water Conservation is treating the catchment of river Devika under CAMPA scheme and plans also have been prepared for the year 2023-24 for Rs. 2.5 crore.