Srinagar (Jammu and Kashmir) [India], June 9 (ANI): Renowned Kashmiri lyricist Sagar Nazir, who penned the famous song 'Zoon Mou', is back tugging at the heartstrings of his fans with his latest offering, 'Boya Aamy Beri Beri Nadas', a soulful paddy harvest song.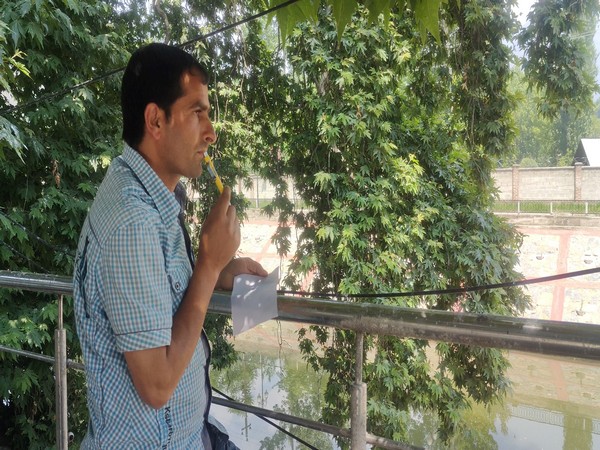 Sung by esteemed vocalist Rashida Akther, the song has garnered millions of views on social media. Hailing from the picturesque Kunzer area of Baramulla district in northern Kashmir, Sagar Nazir is a young author and poet who has dedicated himself to promoting and preserving the Kashmiri language.
His remarkable contributions include compiling 21 books featuring the works of previously unknown and unheard poets from Kashmir, giving them a much-deserved platform and recognition.
Sagar Nazir's journey began in his modest upbringing in Chukar village, Pattan. His deep passion for the Kashmiri language and literature was nurtured through his avid listening to Radio Kashmir's programmes during childhood.
Inspired by the poetic brilliance of renowned figures like Arnimal, Habba Khatoon, and Rasul Mir, Sagar found his own voice in poetry, becoming a leading figure among young poets, critics, cultural activists, translators, and authors in Kashmir.
Despite facing academic challenges, Sagar chose to follow his heart and left school during the 12th grade.
He started penning his thoughts into poetry, focusing on his beloved Kashmir and its vibrant culture. In 2014, he published his first poetry collection, 'Thaer Angnechin', which beautifully captures the essence of Kashmiri heritage.
This significant work earned him the prestigious Sahitya Akademi Yuva Puraskar in 2019, marking a turning point in his career.
Sagar Nazir's literary prowess extends beyond his own creations.
He has also undertaken the commendable task of compiling and promoting the works of lesser-known poets, many of whom were illiterate or lacked guidance. Through his tireless efforts, he brought these hidden gems into the limelight, providing them with a stage to harness their talents.
Sagar Nazir's songs have resonated deeply with the people of Kashmir, finding immense popularity on platforms like Radio Kashmir. He credits renowned Kashmiri singer Aijaz Ahmad Rah for providing him with a platform to showcase his lyrical prowess.
Some of his notable songs — 'Bhaangi Draayokh', 'Chzaangi Maa Aakhi Chey Praraan Mouj Chhey' and 'Raji Maliun Trawun Puom' — have come to be cherished by locals.
Looking toward the future, Sagar Nazir remains steadfast in promoting the Kashmiri language.
He said he lives in the hope of a day when Kashmiri would be granted the status of a classical language. He also emphasised the importance of a new generation embracing and preserving their mother tongue.
Through seminars, workshops and collaborations with various cultural institutions, Sagar Nazir continues to champion the cause of Kashmiri language and culture.
As he gears up for the release of his first collection of Urdu Ghazals, Sagar Nazir advised aspiring artists and poets to immerse themselves in literature, appreciating its depth and richness.
He also underscored the significance of prioritising one's mother tongue as a means to make a substantial contribution to the artistic realm.
Sagar Nazir's journey has been one of unwavering dedication and hard work and testifies to the fact that there are no shortcuts to success.