Leh, June 19:  The District Election Officer (DEO), Leh, Shrikant Suse convened a preparatory meeting today to discuss proposed Special Summary Revision of Photo Electoral Rolls and SVEEP program at the VC Room, Deputy Commissioner Office, Leh.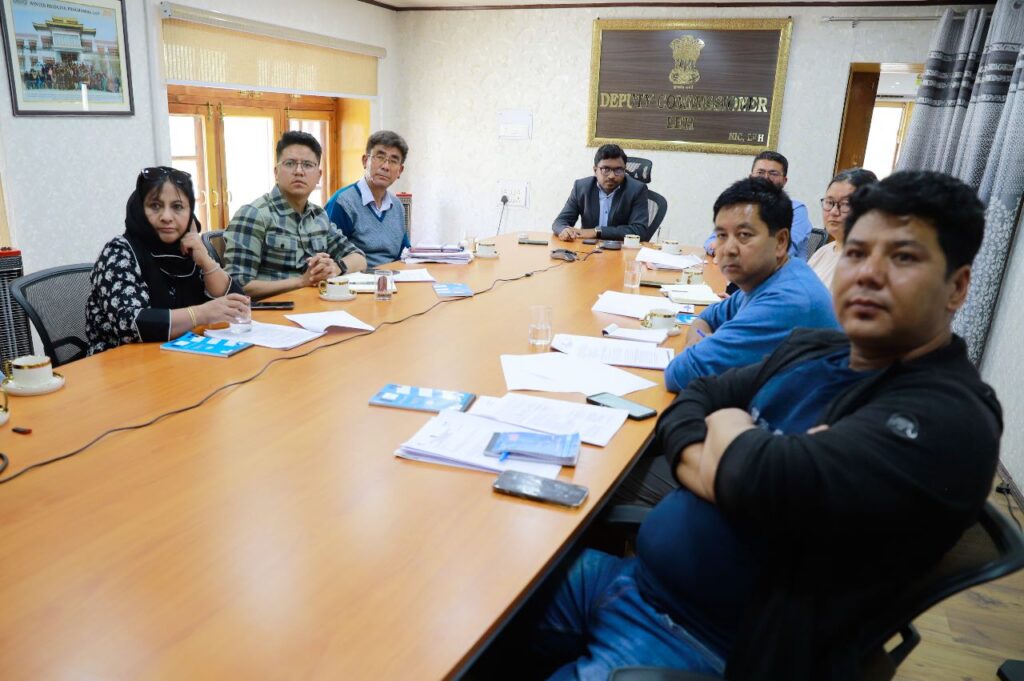 The training sessions for AERO and Supervisors/ BLOs was one of the focal points of discussion during the meeting.
District Election Officer directed to conduct the meeting of BLOs at the earliest and informed that the district level Systematic Voters' Education and Electoral Participation program (SVEEP) program would be launched in coming days.He directed all the AEROs to launch the same at Tehsil and sub-division level.
Talking about the Election Commission of India's song, Deputy District Election Officer, Sonam Chosjor informed that the song 'Main Barat Hoon' appealing to voters to cast their vote was translated in Ladakhi and directed the AEROs to give wide publicity to the video and play the video in schools, colleges and public gatherings. 
District Election Officer, Leh stressed the need to impart adequate training to the BLOs, who play a crucial role in facilitating the electoral process and ensuring the accuracy of voter information. He also directed AEROs to submit the minutes of the meetings to Deputy Commissioner's Office.
Besides, he directed to increase the Linking of electoral data with Aadhaar in Leh and asked to make a strategy to increase the linkage.
In addition to the training sessions, the DEO highlighted the importance of rationalizing polling stations. He directed the BLOs to review the existing polling station locations, assessing their accessibility, and make any necessary adjustments to ensure convenient and equitable access to voting for all eligible citizens.
The DEO emphasized the need to maintain an accurate and up-to-date record of election personnel.
Another critical issue discussed during the meeting was the rectification of discrepancies in the Electoral Rolls. The DEO instructed the nodal officers and AEROs to diligently review the rolls and identify any errors or discrepancies. He directed the officials to remove duplicate entries, updating voter details, and ensuring that the rolls are error-free.
The meeting was attended by Electoral Registration Officer 1-Ladakh PC (Addl. Dy. Commissioner, Leh; Chief Education Officer, Leh; Deputy District Election Officer, Leh; HQ Assistant to Deputy Commissioner, Leh, (Dedicated AERO), Leh; District Nodal Officer, SVEEP, (Dy. Director NYK), Leh; All Tehsildars (AEROS) of Leh District and Election Naib Tehsildar, Leh.