RAJOURI, March 14: World Consumer Rights Day (WCRD) is celebrated every year on March 15th across the nation with great enthusiasm and vigor. The day serves as a reminder of our rights as consumers and how we can protect ourselves from unfair trade practices and exploitation.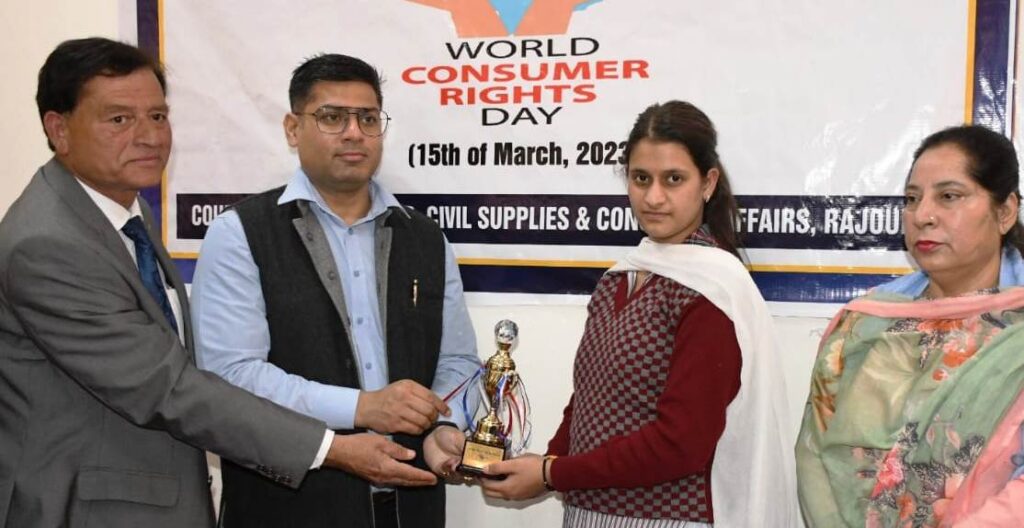 The theme of World Consumer Rights Day 2023 is "Empowering Consumers Through Clean Energy Transitions." This year's theme aims to raise awareness of consumer empowerment and their role in promoting a faster transition to clean energy.
On the occasion of World Consumer Rights Day, a mega program was organized in the Conference Hall of the PWD Dakbunglow, where the Deputy Commissioner Rajouri, Vikas Kundal was the chief guest.
During the event, students spoke about the need for greater consumer protection, improved access to information and a fairer marketplace, highlighting the importance of advocating for the rights of consumers across the world and the need to ensure they are protected from unscrupulous business practices. The students encouraged citizens to be informed and active in demanding their rights as consumers and to push for a global economy that works for everyone.
The District Consumer Disputes Redressal Commission Rajouri-Poonch (Retired district and Session Judge), Ali Khan, addressed the public on consumer rights and the importance of consumer protection. 
He stated that the main aim of the event was to generate awareness among the public about their rights and responsibilities as consumers, as well as to spread information on consumer-related issues. He also highlighted the various consumer protection laws and the role of consumer forums in protecting the rights of consumers. He appealed to the public to make full use of their rights and to be informed about the various provisions under these laws.
Deputy Commissioner emphasized the importance of everyone being aware of their rights and duties so they could be properly protected against any unfair practices by companies or traders. He emphasized the need for strict implementation and enforcement of consumer rights. He also urged everyone to take responsibility and protect their rights as consumers.
The Deputy Commissioner also enlightened the audience about the various initiatives taken by the government to empower consumers in their rights and to create an environment where consumers get what they deserve. He stated that the government is striving hard to ensure that consumers have fair access to goods and services and that their rights are respected. He concluded his talk by encouraging people to be aware of their rights and fight for them if needed.
The Deputy Commissioner also appealed to the public to register their grievances with the District Consumers Court Forum as it is their right as a consumer to seek redressal of any wrongs and grievances done to them.
Mementos were distributed among the students during the event. The celebration of World Consumer Rights Day in Rajouri was a great success and an example of how a community can come together to protect its citizens from being exploited.
ADDC Pawan Kumar, PO ICDS Shoket Mehmood Malik, CEO Education Sultana Kouser, DSWO Wakeel Ahmed Bhatt, AD FCS&CA Arief Lone, TSO Rajouri Ashok Kumar, AD Fire & Emergency Services, Assistant Controller Drugs, prominent citizens including Rajesh Gupta and Yousif Dar and students from different schools were present on the occasion.
In addition to members of the Consumer Disputes Redressal Commission Rajouri-Poonch, Adv Rohini Sharma was also present on the occasion.