Empowering the Campus and Beyond to Save Lives Through Organ and Tissue Donation Education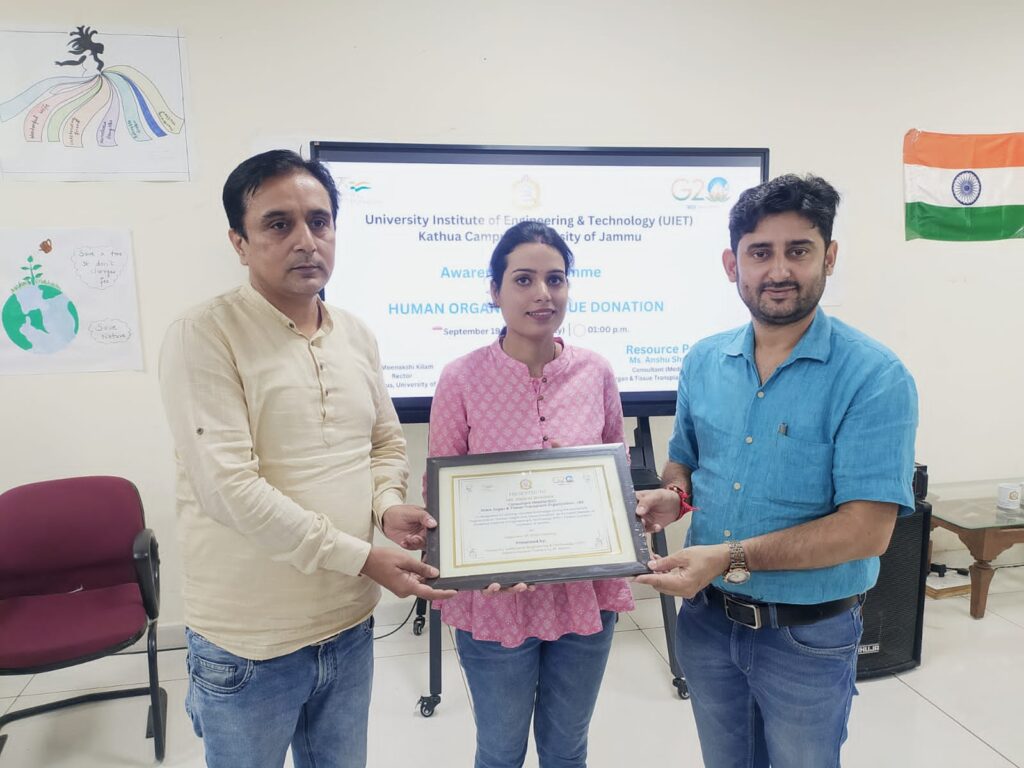 JAMMU, September 19: In a move aimed at transforming lives and spreading a message of hope, University Institute of Engineering and Technology (UIET), Kathua Campus, University of Jammu organized an awareness programme on Human Organ and Tissue Donation. Ms. Anshu Sharma, Consultant (Media/IEC), State Organ & Tissue Transplant Organization, J&K was the resource person.
Ms. Sharma said that there is a huge shortage of organs in Bharat and patients die while on the waiting list as they do not get an organ on time. Further, she said that the transplantation of organs is possible only if there are organ donors available in the country. She also unveiled the extraordinary potential of organ and tissue donation to save lives. She said for the patients and families awaiting transplant, organ and tissue donation can mean the difference between life and death. 
Dr. Meenakshi Kilam, Rector, Kathua Campus, University of Jammu in her message said that there can be no greater service to mankind than donating organs to save another life. She opined that the education and awareness are key to increasing the number of donors and ultimately saving more lives. She further said that by organizing this programme, UIET has taken an active role in addressing the critical shortage of organs and tissues required for transplantation.  
Dr. Vivek Sharma, Academic Coordinator, Kathua Campus (JU) appreciated the efforts of UIET for organising such awareness programmes.
Dr. Sourabh Shastri, I/c Coordinator, UIET welcomed the audience and said that the organ donation provides a life-giving, life-enhancing opportunity to those who are at the end of the line for hope.
Er. Arjun Kapoor coordinated the whole programme while Er. Archana Salaria delivered vote of thanks. The faculty members and non-teaching staff of the campus were also present during the programme.
(NOTE: PRESS RELEASE PUBLISHED AS RECEIVED)