JAMMU, September 19: Department of Home Science (Human Development), University of Jammu today organized a parent empowerment program on the theme 'Positive parenting in early childhood years'. The program was organized for the parents and caretakers of the young children enrolled in the Departmental nursery and day care center. Ms. Swati Basotra, Founder Ttalk easy take easy, leadership trainer, life coach and motivational speaker was the key resource person for the workshop.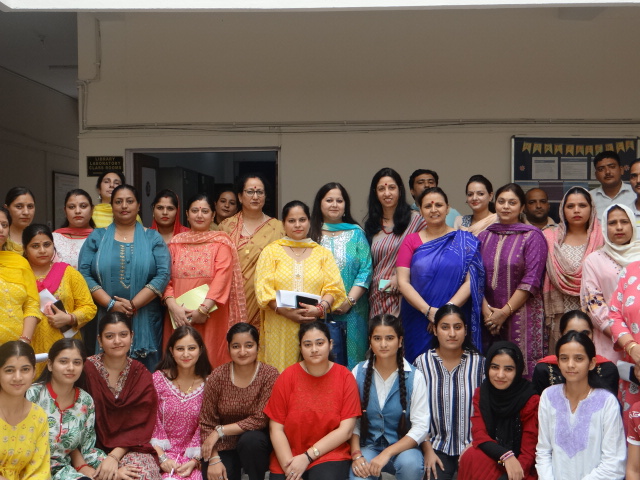 She in her interactive session elaborated on the need to develop 21st century skills- Communication, Collaboration and Connecting among the young children. She stressed on the importance of spending quality time with children, along with limiting screen time and indulging them in more commonly shared activities. She also noted that in an attempt to give the children a comfortable environment we as parents often overprotect and overindulge them. She gave valuable inputs to parents for forging better relationship with their children.
Speaking on the occasion Prof. Samridhi Arora, Head, Department of Home Science, JU elaborated on the importance of Early childhood education and care is emphasized in the National Education Policy (2020).  She spoke at length about the need for wholistic development of children and the role of parents and teachers in this.
Earlier, in her welcome address Prof. Sarika Manhas, In charge Program threw light on the objective of the activity. She mentioned that the Department of Home Science, which houses a preschool and day care centre, not only strives to provide quality preschool education but also endeavors to empower parents on various issues related to children and their development. She noted that synergistic relationship have to be forged between home and school so that children are able to develop to their optimal level. She also spoke about the relevance of early childhood developmental screening and stimulation.
M.Sc. Human Development 2nd semester students actively organized and participated in the empowerment program. They contributed by presenting a skit on 'Good touch, Bad touch', apart from sharing their views on need for behavior modification. They also distributed handmade pamphlets on parenting styles among the participating parents.
Ms. Mamta Singh, Ms. Puja Saraf, Ms. Seema Sharma, Nursery school teachers also shared their views and give important inputs to the parents on the occasion. 
The program was ably conducted by Ms. Manvi, where as the vote of thanks was presented by Ms. Pallavi.
(NOTE: PRESS RELEASE PUBLISHED AS RECEIVED)