New Delhi, Jan 25 (PTI) Superstar Shah Rukh Khan's "Pathaan" will be screened at PictureTime Digiplex, a travelling cinema hall in Leh, Ladakh, touted as the world's highest mobile theatre.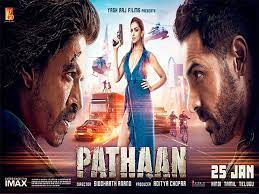 "Pathaan", which marks Shah Rukh's return to the movies after a hiatus of over four years, opened to a positive response in cinema halls across the country on Wednesday.
Directed by Siddharth Anand, the high-octane spy thriller also features Deepika Padukone and John Abraham.
PictureTime will screen four shows of "Pathaan" every day at its travelling theatre, installed at a height of 11,562 feet, according to the company.
The Hindi film will also be screened in the company's three other inflatable theatres in Asifabad (Telangana), Sardarshahar (Rajasthan) and Arunachal Pradesh.
"The entire nation is thrilled to watch 'Pathaan' and so are the beautiful people of Leh. It's been our continued effort to bring marquee cinematic titles to the interior locales of India," said Sushil Chaudhary, CEO and founder, PictureTime Digiplex, in a statement.
"The fandom of Shah Rukh Khan spreads far and wide, and it's the first time one of his recent movies is being released in Leh. We are also doing similar screenings in Asifabad, Sardarshahar (Rajasthan) and in Arunachal. This is a happy occasion for all Shah Rukh Khan fans to come and watch their favourite star on the big screen," he added.
Produced by Yash Raj Films, "Pathaan" was also released in Tamil and Telugu.
Ladakh got its first inflatable cinema with PictureTime Digiplex, a private company, installing the theatre in the union territory in 2021.