New Delhi, Jan 25 (PTI) The audiences queued up from early morning, some groggy eyed with lack of sleep, others bright and brimming with enthusiasm at the start of a new day — and a new Shah Rukh Khan film that bested boycott calls for a record opening.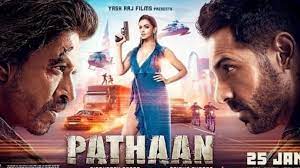 "Pathaan" released on Wednesday in 5,000 screens across India and to 6 am and 7 am shows in several cities, including Delhi-NCR and Mumbai, with industry insiders hoping that the film signals not just the return of SRK the hero after four years but also the good times for the battered Hindi film industry.
It appeared to be back to the glory days at the 6.55 am show at PVR Select Citywalk with whistles, hooting and loud claps as the film unspooled.
Going by the decibel level at the almost full IMAX theatre, the superstar, who has had a string of flops with "Zero", "Fan" and "Jab Harry Met Sejal", is back.
"Simply Shah Rukh," exclaimed a young woman about why she skipped a few hours of sleep to catch the first show of the superstar's new movie even on a cold January morning.
She was among the hundreds of people gathered at the upscale South Delhi mall to watch the spy thriller. They waited patiently as their tickets were scanned at the counter.
Once inside, the wait continued for the film, directed by Siddharth Anand of "War" fame, to start. Many felt frustrated by the battery of advertisements screened before the main feature.
The first loud cheer came oddly when the CBFC certificate of "Pathaan" was displayed. And the celebratory mood continued for the next two hours and 26 minutes.
The Yash Raj Films production, which faced calls for a boycott over its song "Besharam Rang", also stars Deepika Padukone as Rubina and John Abraham as Jim, the main antagonist.
John's first look was received with a roar. And it became even louder when Shah Rukh appeared, complete with stubble, flowing locks and fresh-from-the-battle scars to complete the rugged look. A far cry from the dimpled, clean shaven Rahul of so many other romantic films.
His first dialogue, "zinda hai" was met with loud whistles.