RAMBAN, June 22: Agriculture Production Department Ramban today organised a Seminar in the Government Degree College Batote to acquaint the students  about "DAKSH KISAN"– a Learning Management System for skill development. The event was held as part of Azadi ka Amrit Mahotsav and Holistic Agriculture Development Programme (HADP) under the Supervision of District Nodal Officer, HADP, Dr Suhail Kawoosa.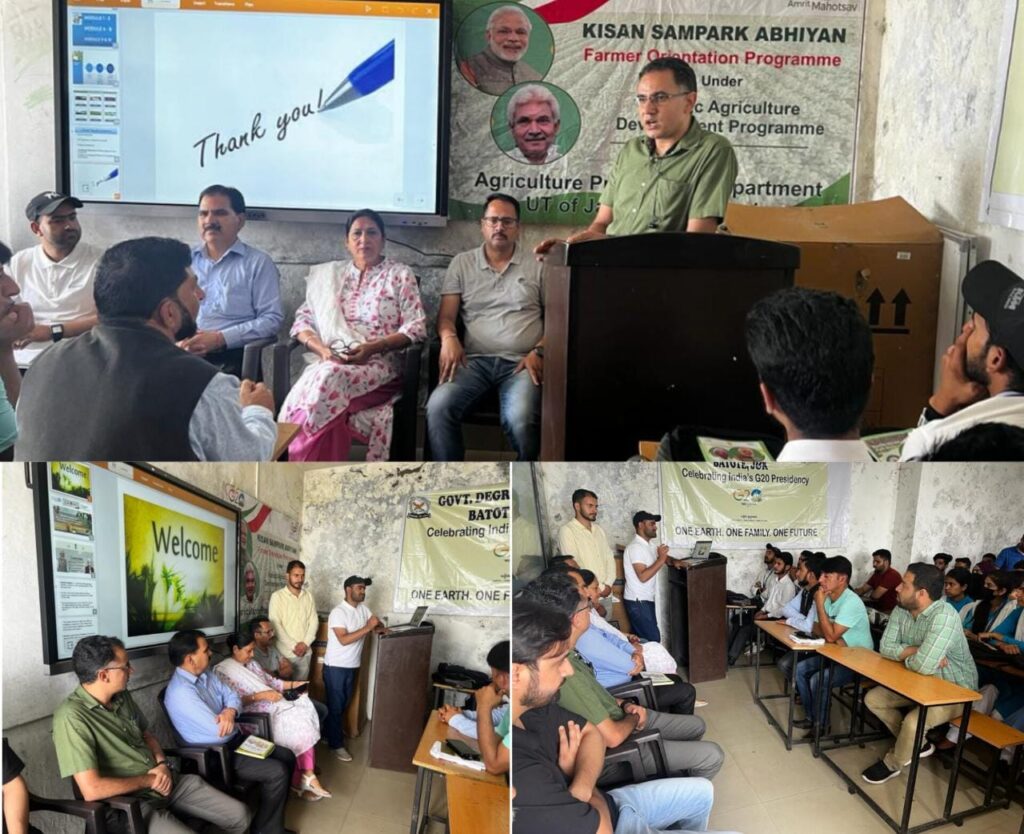 The event started with a welcome note from the Chief Agriculture Officer, Ram Gopal Sharma. He welcomed the participants and gave a brief on the "Daskh kissan" an online learning portal for skill development.
The District Agriculture Officer said that the Daskh Kissan offers orientation and skilling courses for all interventions, latest techniques, exploration of new possibilities in agriculture and allied sectors  through this online Learning Management System developed by a team of agriculture production department in collaboration with state agriculture universities.
A large number of college students participated in the event and were imparted awareness regarding the 'Daksh Kisan' innovative web portal that offers a comprehensive learning management system with over 121 certificate courses, featuring multi-lingual videos and learning material in four languages.
Moreover, pamphlets were also distributed among the students having a simple QR code that on scanning opens the homepage of the Daksh Kisan portal where students can register themselves for free and undertake a skilling course of their liking.
The students were also imparted awareness about various developmental schemes of the Agriculture Department and its allied sectors through visual mode by way of displaying videos, showcasing various benefits being provided under these schemes to the general public, especially aiming at providing employment opportunities for the unemployed youth.
The event culminated with the concluding address of Principal GDC Batote Prof. Nirlep Kour by presenting a vote of thanks to all participants and resource persons for making the event successful.