JAMMU, June 19: Sanjay Pehalwan of Pargwal today lifted Kharah Kesri Dangal title by defeating his rival Vikas Pahalwan of Haryana  in the famous Kharah Kesri Dangal Championship which held here at Kharah today.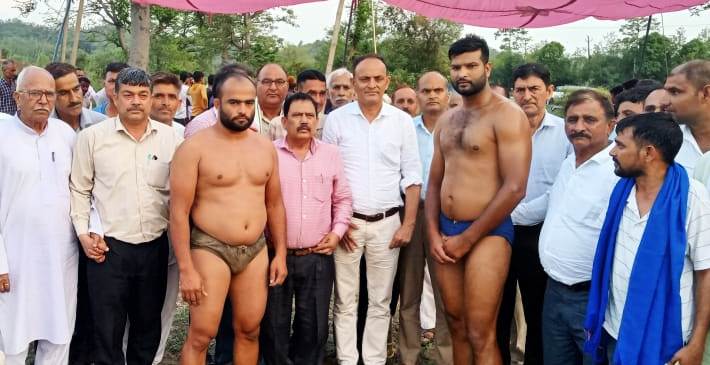 As many as 60 wrestling bouts were held and the highest was played between   and Sanjay Pahalwan of Pargwal and Vikas Pahalwan of Haryana.
Joint Director Youth Services and Sports Jammu, Suram Chand Sharma presided over the function and distributed prizes to the winners and the runners ups on the occasion.
While speaking on the occasion, Mr Sharma thanked the participants and exhorted upon the youth to take part in sports which is the best way to channelise youth energy. The Government is taking all out efforts to provide basic minimum sports  facilities to the youth at their door steps to promote sports culture among Youth, he added.
Among others,  Joint Director Industries Jammu,  Surinder Paul Sharma, District Youth Services and Sports Officer Jammu, Sukhdev Sharma, Tehsildar Kharah- Balli, Romesh Chander, Janak Raj, Ashok Sharma,  Master Des  Raj, Milkhi Ram, Shotu Ram, Chuni Lal, Tej Ram, Suresh Kumar, Dr Surinder,  Prithi Ram, Janak Raj, Romesh Sharma,  Sat Paul Sharma,  Capt.  Romesh  Chander, Parshotam Lal Numberdar, Suram Thakyal, Romesh Kumar,  Tilak Raj and large number of locals and other prominent persons were present on the occasion.