Chamoli (Uttarakhand) [India], March 15 (ANI): A large number of children gathered and celebrated the Phooldei festival at Uttarakhand Vidhan Sabha Bhawan on Wednesday.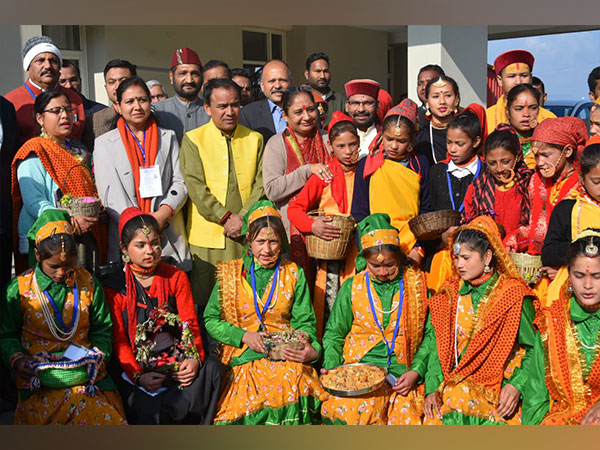 The children showered flower petals on the Vidhan Sabha premises. Traditional songs were also played in the Vidhansabha Bhavan located at Bharadisain to mark the occasion.
Uttarakhand Assembly Speaker Ritu Khanduri Bhushan, Cabinet Minister Satpal Maharaj, Dhan Singh Rawat, Saurabh Bahuguna, Dr Prem Chand Aggarwal, MLA Anil Nautiyal met the children and encouraged them to connect with their folk culture and traditions.
On the occasion, the speaker of the Legislative Assembly Ritu Khanduri Bhushan said, "Our festivals give us the message of connecting with nature and its protection. We should preserve our folk traditions and rich cultural heritage".
Earlier in the morning, Uttarakhand CM Pushkar Singh Dhami also wished the people of the state on the occasion.
"Hearty greetings to all the people of Devbhoomi Uttarakhand on the occasion of Lok Parv Phooldei. The festival of Phooldei also makes our children and young generation aware of their responsibility towards nature and its protection," CM Dhami said in a tweet.
A statement from the Uttarakhand Chief Minister's office was also released on this occasion.
"In his message, Chief Minister Dhami said that the folk festival Phooldei, celebrated in Devbhoomi Uttarakhand, highlights our culture and also maintains the traditions of the mountains," the Chief Minister's office said in a statement.
The Chief Minister wished to God that this festival brings happiness, prosperity and prosperity in everyone's life. He said that folk festivals play an important role in identifying the culture and traditions of a state.
Phool Dei is a folk festival of Uttarakhand. It is celebrated in the Garhwal and Kumaun regions of Uttarakhand in the flowering season in March-April.