Eminent social personalities join BJP
JAMMU, January 24: Adv. Abdul Hafeez (Advocate High Court), Vishal Gupta (Advocate Sales Tax), Pawan Mahajan (Retired Bank Manager), Rajesh Chrungoo (Retired Executive Engineer Civil), Rajinder Sadhotra (Businessman), Ramnik Singh (Company Secretary), Vijay Khajuria and Rahul Gupta (Senior Executive Insurance Department) along with their associates joined Bharatiya Janata Party (BJP) at party headquarter, Trikuta Nagar, Jammu.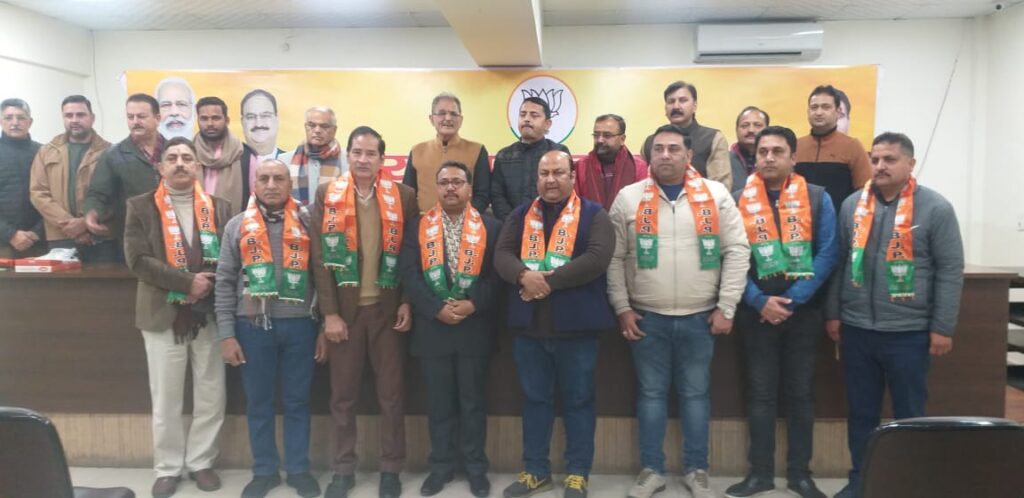 Former Dy. CM Kavinder Gupta and J&K BJP General Secretary (Org.) Ashok Koul formally welcomed the new entrants into the party fold.
Former MLA & BJP Spokesperson Adv. RS Pathania, former MLA Ch. Vikram Randhawa, BJP Secretary Arvind Gupta, Naresh Singh, Ashok Kumar, Neeraj Lucky Puri, Ankush Mahajan were also present on the occasion.
Kavinder Gupta, while welcoming new entrants into the party fold said that those who joined might not be, "political persons but they are influencers and achievers of the society. He said that parties like Congress, NC, and PDP misguided the youth and misdirected their energy reserves in the wrong direction to enjoy the privileges of the power corridors. Now, the people and especially the youth strongly believe that BJP is the only political party that aims to empower the residents of J&K with peace and prosperity.
Ashok Koul, highlighting the policy of Modi government to empower the neglected sections, laid emphasis on BJP's mission of "Ek Bharat, Shreshtha Bharat" including everyone in decision-making. He said that the Modi government has taken care of needy people at the most needed times, while developing the Nation on most modern lines. He added that doing groundwork for welfare of all, party is attracting masses from every corner of the region.
New entrants, on the occasion, highlighted the achievements of Modi government in their respective areas. They said that only BJP is the mainstream political party that talks about development of all irrespective of color, caste, creed, region or religion.