JAMMU, January 24: Ravinder Raina made a scathing attack on Congress party and sought apology from Rahul Gandhi over the baseless remarks made by senior Congress leader on Indian Army and Indian Air Force.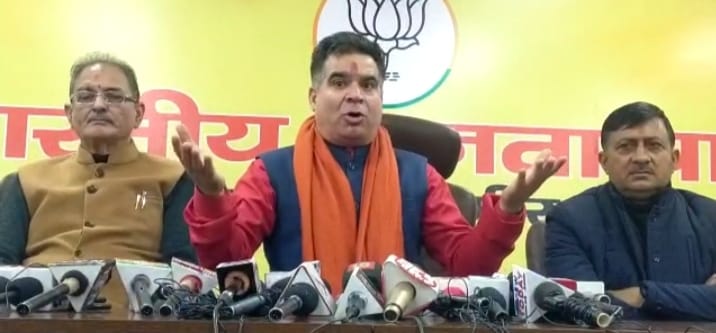 J&K BJP President Ravinder Raina accompanied by former Dy. CM Kavinder Gupta, J&K BJP General Secretary Adv. Vibodh Gupta and Col Gurbaksh Singh  was addressing a Press Conference at BJP headquarter, Trikuta Nagar, Jammu.
"The bravehearts of the Indian Army, JKP, paramilitary forces, Air Force, Indian Navy have sacrificed their lives for the Nation. They have given a befitting reply to the enemy forces. ", said Raina.
"Whereas the whole Nation salutes these soldiers, the Congress leader has chosen to insult them. Congress leaders ask for proof when the whole world stands witness to the Indian Air strength. But Congress has always chosen to insult India at every platform which will not be tolerated at any cost ", said Raina.
"Congress has always sided with the terrorists and separatists betraying India. It has become customary for Congress to speak against the interests of the Nation. It now has a stack of sins against the Nation accumulated over 70 years," said Raina.
"Congress divided India. It gave rise to separatism, terrorism. Gifted a big chunk of Jammu & Kashmir to Pakistan and China" said Raina.
"Rahul Gandhi said that he is trying to understand the pain of J&K, but he must answer why Congress never gave rights to Gujjars, Bakkarwals, women, PoJK refugees, SCs etc. Congress is the culprit of the whole Nation, but it has specifically devastated Jammu & Kashmir," said Raina.
"Today, Congress is talking of Kashmiri Pandits, but they had to suffer forcible ousts from their homeland and had to face horrible atrocities at the hands of fanatics, due to sins of Congress. Congress never talked to the Nationalists, but only with the terrorists like Yasin Malik. It has remained a supporter and sympathizer of terrorists", said Raina.
"Today, Rahul Gandhi could enter J&K with ease only due to the sacrifice made by Dr. Shyama Prasad Mukherjee who laid down his life to remove the Visa like Permit system. This Permit, separate flag, separate Constitution, separate Prime Minister was a specific gift of congress to terrorists" said Raina.
"Rahul Gandhi must learn about the contribution of RSS, Jana Sangha activists in the security and services to the Nation. Even former PM Pt. Nehru had called RSS contingent for the Republic Day Parade or their services to the Nation. We worship Bharat Mata and for us there is always Nation First" said Raina.
"The Modi government is working on the Ek Bharat, Shreshtha Bharat and Sabka Sath, Sabka Vikas missions. We have a vision for a perfect harmonious society of all religions living together with love," said Raina.