Sopore (Jammu and Kashmir) [India], June 19 (ANI): Mufferah Majeed Khuroo, who is combating climate change and promoting sustainable development in North Kashmir, garnered recognition from Lieutenant Governor Manoj Sinha for her ambitious project to construct a solar panel and steam-powered boat.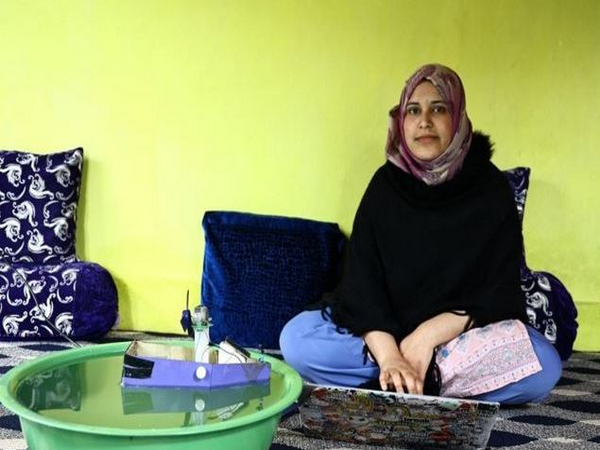 During his monthly program, 'Awaam Ki Awaaz,' Lieutenant Governor Manoj Sinha praised Mufferah's unwavering dedication and assured her of support from the higher education department and the district administration of Baramulla in realizing her dream.
LG Sinha's acknowledgement of her efforts underscores the importance of grassroots initiatives in driving significant change, setting a powerful example for others to follow.
A resident of village Doabagh in North Kashmir's Sopore, Mufferah, an undergraduate with a liking for physics has dedicated one and a half years to this remarkable endeavour. Her project represents an innovative approach to sustainability, showcasing her determination to create a positive environmental impact.
Mufferah's vision revolves around harnessing the power of renewable energy to create something extraordinary. By combining solar panels and steam technology, she aims to develop a sustainable boat that not only reduces carbon emissions but also serves as a symbol of the vast potential of renewable energy sources.
She said, "For a long time, my dream has been to utilize renewable energy sources to create an incredible invention that can contribute to a greener future." Her drive for sustainable development shines through as she emphasizes the importance of innovative solutions in tackling climate change.
However, the high cost of equipment such as large solar panels, steamers, and electronic gadgets presents a financial challenge.
Nevertheless, she remains steadfast in her belief that with the support of the LG administration and district authorities, she can achieve remarkable results.
"I am immensely grateful to my family, especially my father and mother, who have been my pillars of strength throughout this incredible journey," she said.
Despite discontinuing her education after completing the 12th grade, she continues to receive unwavering support from her loved ones. She considers the acknowledgement of her innovation by LG Manoj Sinha as the perfect Father's Day gift, highlighting the profound impact her project has had on her family.
Mufferah's story serves as an inspiration for others, encouraging them to take small steps towards sustainable practices that can pave the way for significant changes in the fight against climate change.
With newfound support from the LG administration and district authorities, Mufferah's innovative project takes a significant leap forward. With young visionaries like her at the forefront, the future holds promise for a greener and more sustainable tomorrow.
In her message to the Governor, Mufferah conveyed her profound gratitude for the recognition bestowed upon her invention. She expressed how the acknowledgement not only validates the effort and dedication she invested in the project but also motivates her to explore further innovative solutions for a greener world.
Highlighting the importance of sustainable practices and collective action, Mufferah emphasized the critical environmental challenges we face and the need for everyone to contribute to finding solutions.