M A Bichoo takes over as SDM Thathri
THATHRI (DODA), September 19: After taking over as  Sub Divisional Magistrate Thathri,   Masood Ahmed Bichoo, today interacted with the Officers of the Sub Division at  an introductory cum developmental review meeting here in the Dak Bungalow.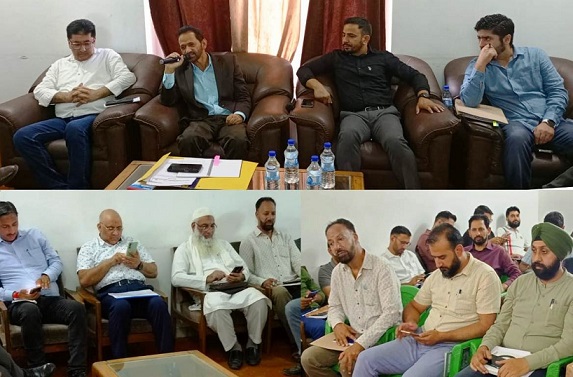 The meeting was attended by Principal, GDC, Thathri, XEN PWD Div Thathri, XEN PMGSY Div Thathri, Tehsildars Thathri/ Kahara/ Chiralla,  BDO Thathri/ Chiralla, Treasury Officer Thathri, CDPO Thathri and others officers.
Masood Ahmed Bichoo, during the maiden interaction with the officers, desired to bring a positive impactful change in their working on the ground to achieve all round development of the Sub Division. He stressed on utilizing the available resources optimally to achieve the desired tangible results.
A threadbare discussion over the various ongoing work projects under different schemes was also held. Accordingly, the executing agencies were asked to ensure that the ongoing works must be completed within the stipulated time frame.
He directed the EO MC Thathri to ensure the cleanliness of the town area and routine market checking. Besides, he also asked all the concerned officers to maintain proper work culture and punctuality in their offices.