SAMBA, September 19: To commemorate Gandhi Jayanti, Government Degree College Ramgarh today organized Intra-College Collage making and  painting Competitions on the theme 'Truth and Non-Violence, in continuation to the series of activities organized by the college under the aegis of India's Presidency in G20 and Azadi Ka Amrit Mahotsav.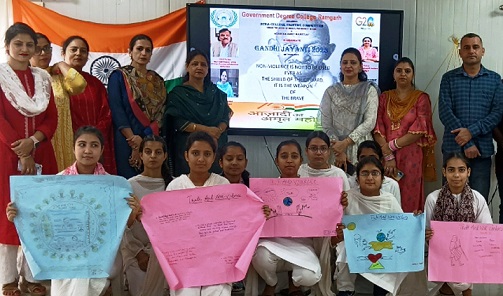 The event was organized under the guidance and coordination of Prof. (Dr.) Geetanjali Andotra, Principal of the College with an endeavour to rekindle the thoughts and works of the Father of the Nation.
In the Collage Making Competition, first position was secured by Anjali Dogra & Sonia Dev; second position was clicked by Chahat Sapolia & Kirandeep Kour while third position was bagged by Mohit Singh. In the Painting Competition, first and second position was secured by Shavi Malhotra and Tamana Attri respectively while third position was bagged by Vanshika Sharma.
Earlier, a large number of students participated in the events and expressed their emotions, feelings, ideas and innovative thoughts in an artistic form highlighting the thematic virtue(s) of this Global personality
Prof. Risha Kumari, Convener of the events advised students to imbibe the golden principles 'truth and non-Violence in them. He appreciated the hard work & creativity of participants. She also stressed on the value and significance of Gandhi ji's weapons of non-violence and truth in the freedom struggle.
To commence the event, Dr. Sandeep Kumar, Department of Statistics briefed the participants about the rules of the event and emphasized the importance of Gandhian thoughts and vision for enlightening the young minds to wade through these difficult times with the tools of truth and non-violence.
The faculty members who witnessed the events include Dr. Aditi Khajuria, Prof. Seema Sharma, Dr. Sandeep Kumar, Prof. Risha Kumari, Dr. Rahul Kundal, Dr. Ekta Rani, Dr. Shivali Choudhary & Dr. Paramjeet Kour.