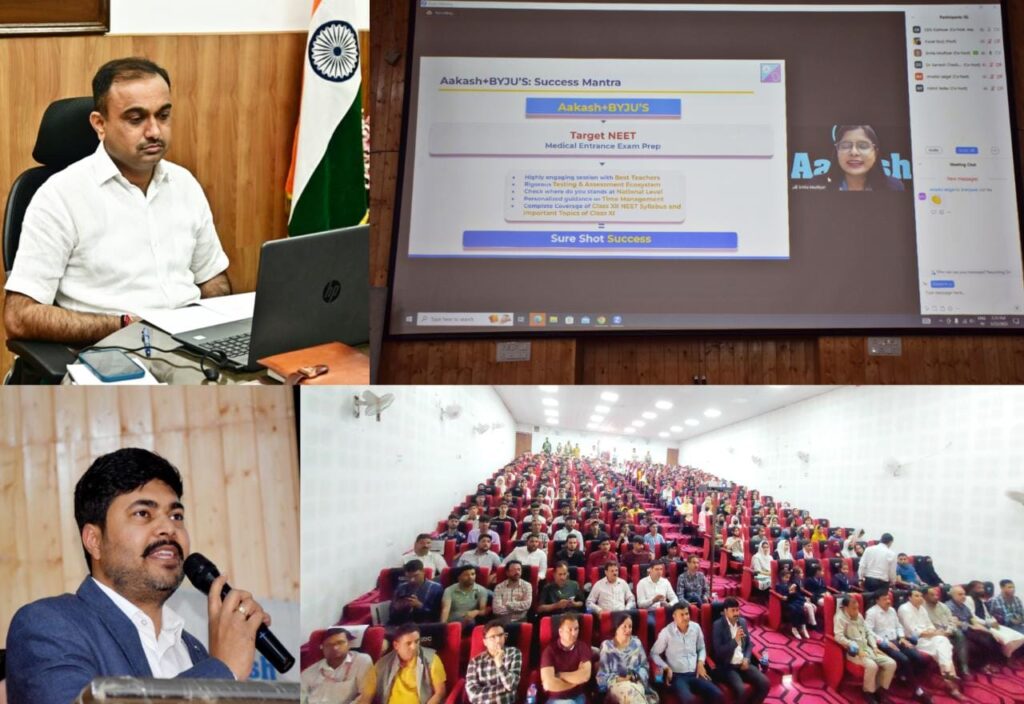 Div Com e-inaugurates Aakash, BYJU'S aided programme
KISHTWAR, MAY 23: In a groundbreaking move, the District Administration Kishtwar, in collaboration with Aakash and BYJUS launched a unique offline cum online coaching program for NEET aspirants of the District.
The inaugural ceremony took place at the newly constructed Auditorium of Government Degree College (GDC) Kishtwar and attended by around 200 enrolled NEET aspirants and guests.
 Divisional Commissioner Jammu, Ramesh Kumar e-inaugurated the Coaching programme  in presence of Deputy Commissioner Kishtwar, Dr. Devansh Yadav-, ADDC, Sham Lal; ACR, Varunjeet Singh Charak, GM CVPP Saleem Wani, Principal GDC Dr Jyoti Parihar and  other guests, including BDC Chairman Nagseni, Mohammad Ashraf and DDC Kishtwar Zakir Hussain Batt, staff of CEO office, GDC and Hr Secondary Schools of  the district.
Chief Education Officer Prehlad Bhagat, Faculty members of Aakash and BYJUS attended the ceremony through virtual mode.
The Divisional Commissioner Jammu, in his address, extended his best wishes to the NEET aspirants and encouraged them to make the most of this initiative. He commended the District Administration Kishtwar, led by Dr. Devansh Yadav, for its proactive efforts in promoting educational welfare and introducing productive initiatives for the betterment of the community.
Addressing the audience, Deputy Commissioner Dr. Devansh Yadav, highlighted the initiative taken by the District Administration to provide coaching to the students, particularly girls, who face financial constraints in accessing coaching outside the district. The program offers both online and offline classes, utilizing the state-of-the-art Auditorium with its recently installed projector facility at GDC Kishtwar.
Scheduled to commence on May 25, 2023, the 10-month course will include interactive and doubt-clearance sessions facilitated by experienced faculty members from Akash and BYJUS.
The coaching program aims to ensure an efficient learning experience, supported by logistic arrangements, advanced audio-visual aids, comfortable seating arrangements, besides other incentives for NEET aspirants will be provided including All India Test Services, premium content e-subscription and live doubt solving sessions.
The inaugural ceremony also included introductory sessions conducted by faculty members from Aakash and BYJUS, providing students with an insight into the course content and its salient features.
The District Administration Kishtwar, in collaboration with Aakash and BYJUS, aims to empower NEET aspirants and provide equal educational opportunities for students in the region.
This groundbreaking initiative sets a pre