JAMMU, March 19: Gulchain Singh Charak, President Lakshmi Narayan Mandir Management Trust along with Sr Advocate Ajay Gandotra, President J&K Dharmarth Trust and Secretary Ashok Kumar Sharma (SSP Retd) today performed a special Pooja at Shri Ranbireshwar Temple ahead of annual 29th Holy Chhari Yatra, which will be taken to ancient Shiv Temple at Purmandal on March 20th.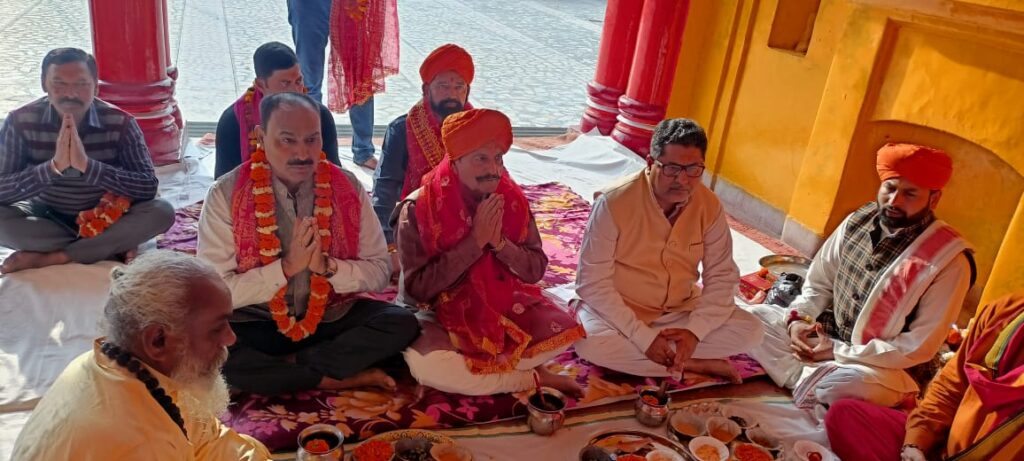 On the occasion, Mahant Rishiban and staff of Dharmarth Trust were also present.
The holy Chhari Yatra will commence on March 20th at 7:30 AM from Shree Ranbireshwar Ji Temple. On its route to Purmandal it will pass through Shri Raghunath Ji Temple where Pooja of the Holy Mace will be performed and thereafter it shall be taken to Lakshmi Narayan Mandir, Gandhi Nagar, Jammu.
After performing a special Pooja at Lakshmi Narayan Mandir, the Holy Mace will be taken in a specially made and decorated Rath followed by huge procession of devotees which would also pass through different temples enroute to Purmandal.
At Purmandal, this Holy Mace will be received by the Deputy Commissioner, Samba, and President Dharmarth Trust and other officials at Purmandal wherein again a special Pooja of Holy Mace shall be performed. Thereafter, a Grand Bhandara shall be arranged for all devotees.
Ajay Gandotra said that the Trust has arranged two luxury buses preferably for senior citizens accompanying the Charri Yatra. The vehicles for Charri Yatra will be available at Indira Chowk at 7:30 AM.