KISHTWAR, May 23: The Department of Sports and Physical Education of Government Degree College Kishtwar organized an exhilarating Inter-semester  Cricket Tournament on the College Athletic Grounds under the aegis of Khelo India and Nasha Mukht Bharat (NMB).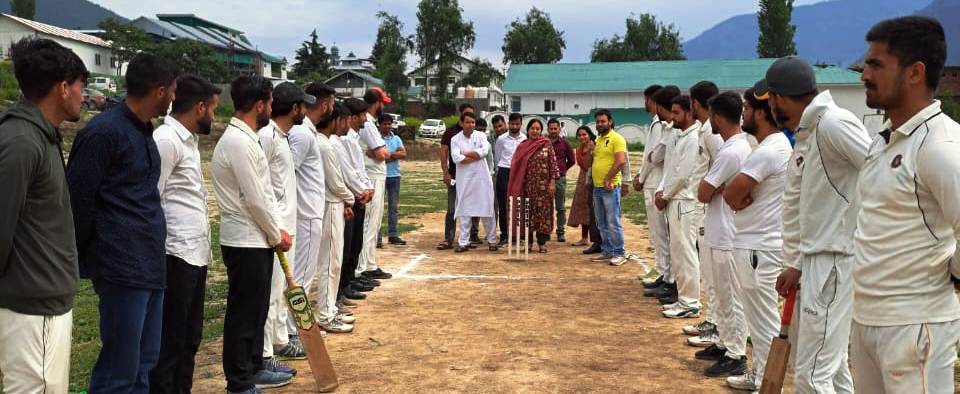 The tournament commenced in the gracious presence of the College Principal and the Chief Guest, Dr. Jyoti Parihar.
In her opening speech, Dr. Parihar emphasized the significance of games and sports for the physical and mental well-being of individuals. She encouraged the college students to actively participate in the sports events organized at GDC Kishtwar, highlighting the adverse consequences of drug abuse on one's physical, social, intellectual, and moral domains. Dr. Parihar further added that apart from providing entertainment and excitement, sports can also be pursued as a career option, ensuring a secure livelihood for the future.
Expressing her appreciation, Dr. Jyoti Parihar commended Prof. M.M. Mattoo, the convener of the sports event, and the dedicated committee members including Dr. Madhu Ram, Prof. Randeep, Dr. Madhu Bala, Prof. Sachinjeet, and Mr. Akshay Sharma for their efforts in organizing the tournament. She extended her best wishes to all the participating players, urging them to exhibit a cooperative attitude and spread the message of peace and harmony to the wider world.
The Cricket Tournament witnessed enthusiastic participation of students, showcasing their talent and passion for the sports. The tournament provided a platform for students to exhibit their cricketing skills and foster a spirit of healthy competition among their peers.
The event was organized under the flagship programs of Khelo India and Nasha Mukht Bharat (NMB), which aim to promote sports and physical activities as well as create awareness about the ill effects of substance abuse.
The Department of Sports and Physical Education at GDC Kishtwar remains committed to organizing such engaging tournaments and events, encouraging students to lead an active and balanced lifestyle.