RAJOURI, MAY 23: District Development Commissioner, Vikas Kundal, on Tuesday distributed Smart Kisan Credit Cards (KCCs) to the progressive farmers under Kisan Sampark Abhiyan. The initiative, designed to enhance financial inclusion and facilitate agricultural growth, marks a significant milestone in the region's agricultural development.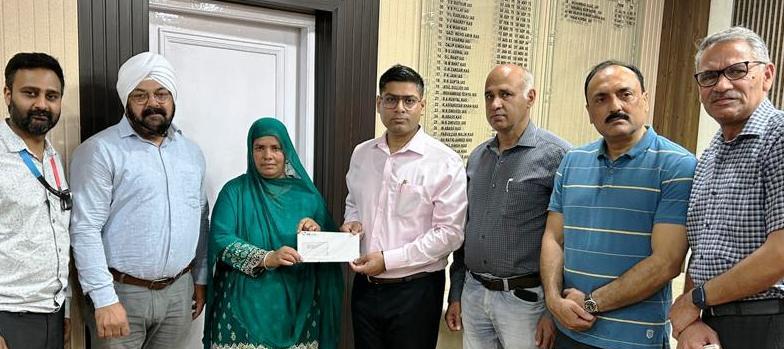 Accompanied by officers and resource persons, including the District Nodal Officer and Chief Agriculture Officer, the DDC underscored the importance of the Smart KCC Cards. These advanced cards offer a range of benefits, including streamlined access to credit facilities, simplified loan applications and the ability to avail various agricultural inputs seamlessly.
"By equipping farmers with these cards, the District Administration aims to catalyse their productivity and economic progress", reiterated the DDC.
The DDC, while interacting with the Farmers, said the Orientation Programme provided a platform to them to gain in-depth knowledge about various government schemes and projects under the Holistic Agriculture Development Program (HADP).
Additionally, participants received comprehensive information about self-employment opportunities and allied sector schemes. The program aimed to empower farmers with valuable insights and resources to maximise their agricultural potential.
Recognizing the significance of social security schemes, the DDC emphasised the importance of schemes such as the Pradhan Mantri Jeevan Jyoti Bima Yojana (PMJJBY), Pradhan Mantri Suraksha Bima Yojana (PMSBY), and Atal Pension Yojana (APY). These schemes provide farmers with financial security and protection against unforeseen circumstances, ensuring their well-being and peace of mind.
Expressing his gratitude to the participants, the DDC commended their dedication and resilience in the face of challenges. He reaffirmed the District Administration's commitment to support the farming community by implementing progressive initiatives and providing comprehensive assistance.
"The District Administration remains steadfast in its efforts to create an enabling environment for farmers, empowering them to thrive and contribute to the region's overall growth," said DDC Rajouri.