SAMBA, MARCH 18: Deputy Commissioner Anuradha Gupta called for a meeting with officers from various departments and representatives of religious organisations to review the arrangements for the upcoming festivals in district Samba.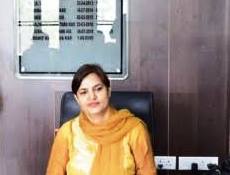 Initially, the Pujaris and members of Mandirs and Shrines committees brought to attention the matters pertaining to the arrangements for smooth celebrations of Navratra festival.
During the meeting, various issues were discussed in detail, such as road connectivity, cleanliness, uninterrupted electricity, regular drinking water supply, security, medical facilities, traffic management, repair of high mast lights, inspection of food rates and quality, repair of roads and potholes and deployment of fire tenders and ambulance services.
The Deputy Commissioner directed the engineers of PWD, RDD, Jal Shakti, and PDD to ensure road connectivity, water and power supply to the shrines and temples during the forthcoming Navratra, Ramnavami and Ramzan festivals. She also requested the Police authorities to provide adequate security arrangements.
The DC instructed the traffic authorities to ensure proper management of traffic during the upcoming festivals of Navratras, Ramnavami and Ramzan. The ARTO was also asked to place proper sign boards for convenience of the devotees and enhance the number of Buses/Matadors from Utterbhani to Purmandal. Additionally, they were told to ensure that the buses should remain standby even late hours in the evening to ferry the pilgrims.
The DC directed the Divisional Fire Officer, Fire, and Emergency Services, Samba, to ensure that one fire tender is made available at Chichi Mata Temple and another for Utterbhani/Purmandal.
The Deputy Commissioner issued on-the-spot instructions to the concerned department to address the issues before the start of Navratra festival.
ADC Samba, Rakesh Dubey, SDMs, representatives of mandir committees, DIO and officers of concerned departments were also present in the meeting.