LEH, September 19: Deputy Commissioner, Leh, Santosh Sukhadeve chaired a meeting today at the DC office conference hall to deliberate on the effective implementation of the Aspirational Block Programme (ABP) in the Rupsho Block of Nyoma.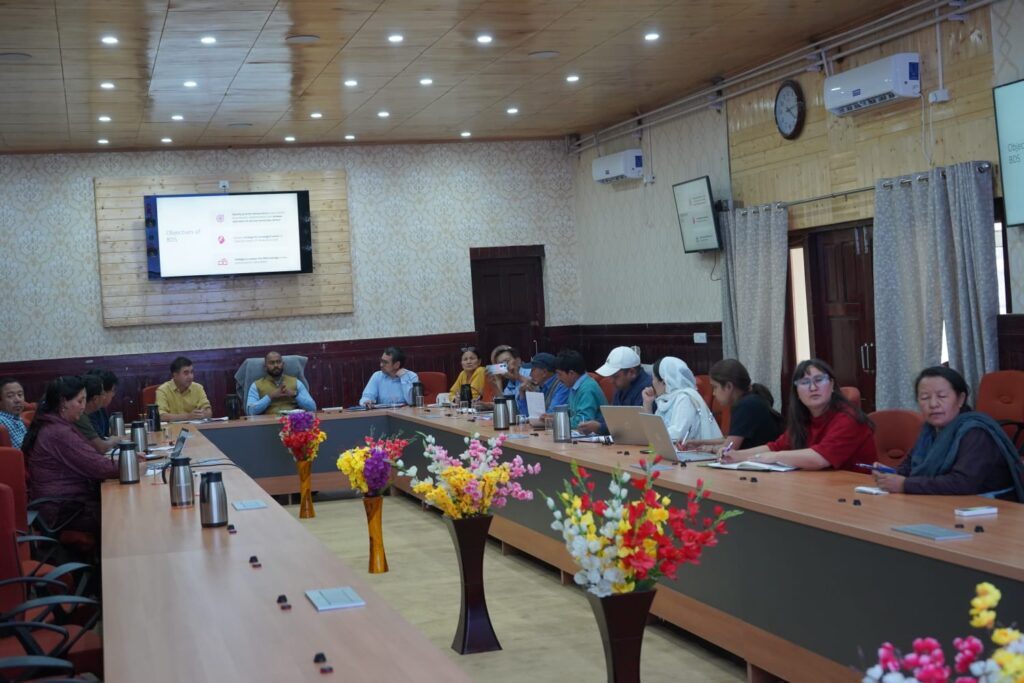 Present at the meeting were Chief Planning Officer (CPO) Tsewang Gyalson; Chief Medical Officer (CMO) Leh; Sub-Divisional Magistrate (SDM) of Nyoma, and several other district officers.
The agenda of the meeting included discussions on infrastructure development, healthcare facilities, education, sanitation, and employment generation within the Rupsho Block. Stakeholders shared valuable insights and action plans to ensure the successful execution of the ABP, targeting the enhancement of living standards and opportunities for the local population.
ADDC Leh, Sonam Norboo gave a presentation outlining the proposed Block Development Strategies and the corresponding action plan. He emphasized the significance of organizing Chintan Shivirs (brainstorming sessions) at the block level to engage all relevant stakeholders actively.
Deputy Commissioner, Santosh Sukhadeve emphasized the importance of the ABP in driving holistic development and addressing the specific needs of the Rupsho Block. He highlighted the need for close cooperation among various departments, the local administration, and the community to realize the objectives of the ABP effectively. He stressed that this initiative aligns with the government's commitment to equitable growth and prosperity in all regions of the district.
DC Leh highlighted the importance of the aspirational district programme, which seeks to uplift districts that have faced challenges in making progress in critical social areas. He particularly stressed the need to prioritize the development of the health and education sectors within the district.
Additionally, DC Leh highlighted the importance of ensuring the convergence and saturation of Centrally Sponsored Schemes.
Deputy Commissioner Santosh Sukhadeve directed all district officers to prepare detailed action plans aligned with the Block Development Strategies discussed during the meeting. Further, added that these plans should emphasize the enhancement of health and education services while maximizing the benefits of centrally sponsored schemes for the overall development of Leh district.
Deputy Commissioner urged all participants to work collectively towards the efficient implementation of ABP projects, emphasizing the significance of timely execution and transparency in utilizing resources.
(NOTE: PRESS RELEASE PUBLISHED AS RECEIVED)