JAMMU May 28: Sumbal Sonawari Congress Party is capable enough to defeat the fake narrative and misleading politics of BJP, which the party has proved by winning Karnataka elections with a thumping majority. Congress is doing transparent politics and fighting elections on real issues concerning people, but the BJP is diverting the attention of the people from the real issues for electoral gains.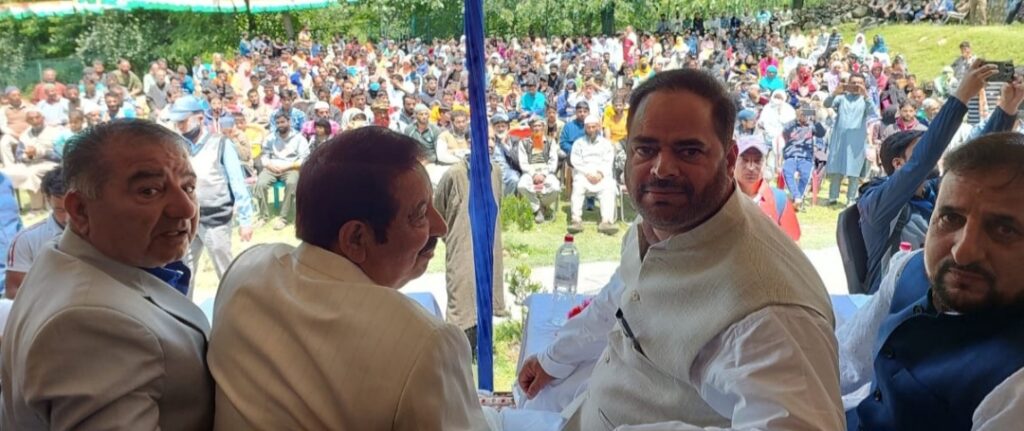 Jammu and Kashmir Pradesh Congress Committee (JKPCC) President Vikar Rasool Wani made these observations while addressing a largely attended Party workers convention at Sumbal Sonwari in Bandipora district.
Speaking on the occasion, Vikar Rasool Wani said Congress Party is strong enough as it enjoys the full support of the people given its transparent and pro people policies, it will continue to fight for rights of the people, which are under assault since the BJP Govt assumed power at Centre.
Since 2014, BJP is trying to thrust upon dictatorial rule in the country for the lust of power besides undermining the authority of democratic institutions, which stand guarantee to protection of rights and deliverance of justice to people of every section living in the country. BJP is not feeling comfortable with the existence of these institutions and conspire to undermine these for the lust of power Wani added and said the dictatorial rule of BJP shall never be acceptable to the Nation
JKPCC President cautioned about the designs and misleading politics of BJP which hurt the emotions of the people especially during elections times, for the fact, they BJP cannot fight in elections on issues given its failure on all fronts.
JKPCC President exhorted the Party workers across J&K to gear up for the challenges ahead and prove their mettle by giving a befitting reply to BJP and others in the upcoming ULB and Panchayat elections.
Former JKPCC President Peerzada Mohd Sayeed while addressing the convention expressed confidence that Congress Party is capable of delivering and ensuring justice to people of J&K, as the Party feels the pain and anguish among the people since the BJP came into power.
Senior Congress Leader Gh.Nabi Monga (Ex.MLC), Mohd Anwar Bhat, Gh.Mohd Dar, Prof.Ismail Ashna, Shameema Raina, Fayaz Ahmad Dar, Mahil District President Rehana, Bashir Ahmad Khan and various other leaders addressed  the convention.