DODA, June 19: To access the healthcare facilities, the Chief Medical Officer Doda, Dr. Ab Hamid Zargar today  visited CHC Thathri and PHC Prem Nagar to take stock of the healthcare facilities available there.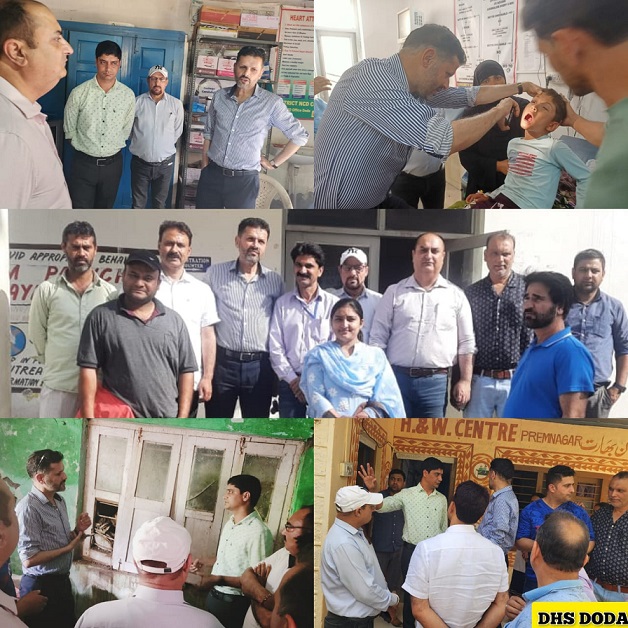 The CMO went around various wards, different sections of the hospitals and received detailed account of the activities vis a vis patient flow, availability of infrastructure, manpower, medicines, diagnostic equipment and sanitation in the hospital. CMO interacted with the patients, attendants and enquired about the facilities being provided to them.
During his visit to PHC Prem Nagar, the CMO interacted with the staff and public of the area and listened to the problems being faced by them and gave on spot directions to BMO Thathri and other concerned officers to fulfill all the gaps and improve the services provided to the public of the area. 
DDC Thathri, Sandeep Manhas, PRI members and locals of the area apprised the CMO about various issues pertaining to health sector like filling up of all vacant posts, issues related to PHC building beside others. The CMO gave a patient hearing to the issues raised and assured them that every possible action at his end on priority. He also assured them to take up issues with higher authorities, so that better and quality health services would be provided to the public of the area.
While interacting with the staff at CHC Thathri and PHC Prem Nagar, the CMO exhorted upon them to put in all efforts to achieve new goals in healthcare sector. Further, he asked the medicos and para medicos to work with honesty, dedication and maintain the credibility of this noble profession. 
The CMO Doda was accompanied by BMO Thathri Dr Shafqat Javed Zargar and concerned officials from District and Block Level.