LEH, November 21: The Commissioner/Secretary (Tourism), Ladakh, Kacho Mehboob Ali Khan, held a meeting of concerned Officers from the Civil Administration, Police Department, BRO, Tourism Stakeholders' Association heads etc. to address the issue of holding the Chader Trek on the Zanskar river without disturbing the ongoing work on the construction of the Nimu-Padum-Darcha Road (NPDR) being built by the Border Roads Organisation (Project Yojak).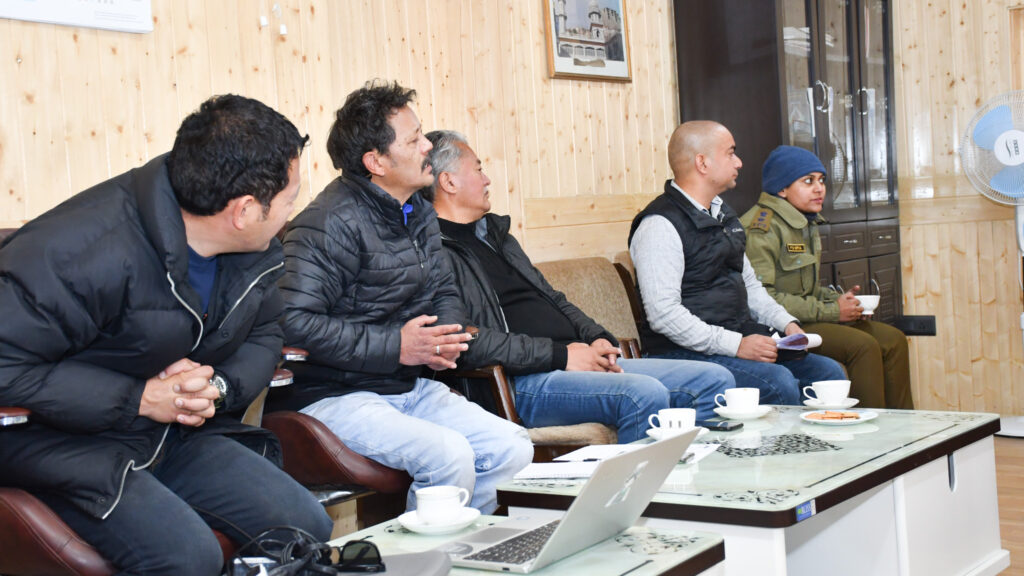 The discussion focused on primarily ensuring the uninterrupted construction work on the NPD Road and at the same time organizing the Chader Trek safely on a truncated route on the Zanskar River. Sh. Deleks Namgyal, President of the All Ladakh Tour Operators Association (ALTOA), emphasized the need for a secure and uninterrupted stretch of at least 20 kilometers to offer a comprehensive trekking experience to the prospective clients.
In order to have a practical and viable solution it has been decided in the meeting to conduct a joint reconnaissance on November 23, involving representatives from ALTOA, Ladakh Tourist Trade Alliance (LTTA), Ladakh Mountain Guides Association (LMGA), District Administration (DC's representative), Ladakh Police, UT Disaster Relief Force (UTDRF), Tourism Department, and BRO. The joint team will propose the starting point and last point of the Chader Trek and also identify crucial trek locations such as campsites, medical and rescue facilities, and Police Posts to be set up, and ensure a safe and smooth Chadar Trek experience.
The representation from religious/social Organisations of the Zanskar Sub-division was also considered and it has been discussed that their concerns are being taken care of. There will be no disruption in the road construction work and BRO will be part of the overall coordination exercise. The Chader Trek is an important winter tourist activity spanning over a period of about one and a half months in the months of January and February and hence efforts are being made to continue with the same.
BRO expressed its commitment to closely collaborate with the UT Administration and stakeholders to facilitate the trek and assured that requisite safety measures would be followed as per requirement.
The meeting was attended by key representatives, including SSP Leh, PD Nitya; Director (Tourism), Kunzes Angmo; ADC, Leh, Sonam Chosjor; Wildlife Warden, Leh, Pankaj Raina; Commander, Yojak, Chilling; AD (Tourism), Tsering Spalzes; Inspector (UTDRF), Tsewang Namgial; President, LTTA, P. T. Kunzang; President ALTOA, Deleks Namgyal; Stanzin Norboo, ALTOA; and Tsewang Tundup, LMGA besides other officers/officials.
(NOTE: PRESS RELEASE PUBLISHED AS RECEIVED)