JAMMU, 20 June : Interacting with the trade, commerce and industry segments of J&K, Bharatiya Janata Party (BJP), Jammu & Kashmir organized a Vyapari Sammelan at Royal Park, Jammu.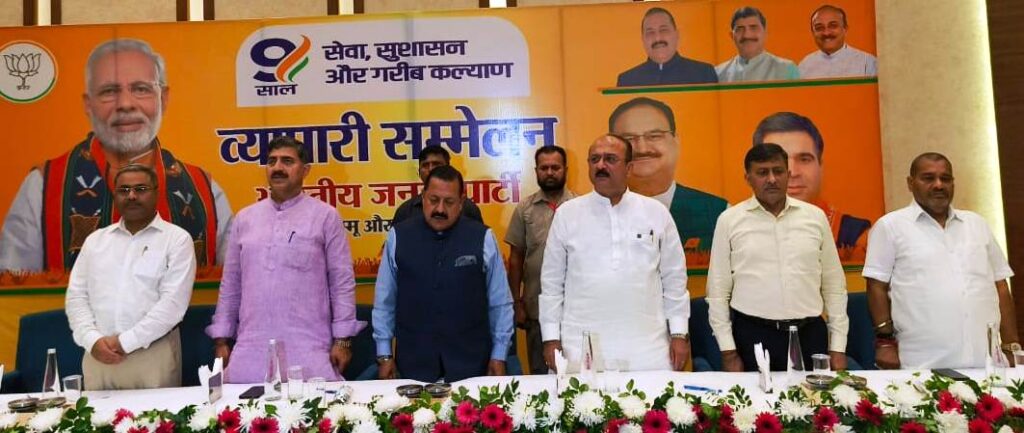 The programme organized in connection with the 'Nau saal bemisaal' on the occasion of successful completion of 9 years of Modi government at the Centre, saw the addresses and 2 way interactions in between the resource persons and the participants representing various prominent  business, industry and trade fraternities from the region.
Dr. Jitendra Singh, Union Minister of State (Ind. Charge) Science & Technology; MoS PMO, PP/ DOPT, Atomic Energy, Space, J&K BJP Seh-Prabhari Ashish Sood, MP (Lok Sabha) Jugal Kishore Sharma, General Secretary Adv. Vibodh Gupta, General Secretary Dr. Devinder Kumar Manyal, Industry Cell Convenor Neeraj Anand, Trade Cell Convenor Sham Langar addressed the Sammelan.
Lalit Mahajan (President) BBIA Chairman federation of Industry, Anil Gupta (SVP) Chamber of Comm. & Industry, Rajesh Jain (P) Association of Ind Gangyal, Deepak Dhawan Birpur Industry, Raman Gupta (President) Chamber of Traders federation, Yash Paul Gupta (President) Retailer federation Jammu, Deepak Gupta President Traders Ware House, Rahul Sahay (Chairman)  PHD Chamber of Comm. & Industry and other prominent persons from the fraternity participated in the event.
Dr. Jitendra Singh, addressing the Sammelan, focused on the commitment of the Modi government to strengthen the Indian economy through various measures. He said that the Indian economy has risen to 5th spot in these years from 10th. He said that the Modi government has stressed on the innovation to boost the business, industry and trade in the nation and promoted entrepreneurship in the youth through various landmark decisions. He also talked of the various steps to ensure 'ease of doing business' like the single window approach.
Ashish Sood, in his address, said that BJP has been progressing with a futuristic vision. The Modi government has ensured the obsolete laws to be deleted paving way for those in need to promote socio-economic development in the nation.
Jugal Kishore Sharma focused on the various development projects undertaken by the Modi government in the nation, focusing especially in the region of Jammu & Kashmir. He said that the government has initiated various projects with a vision to improve the tourist influx in the region, increasing their halt time and thus increasing the business opportunities in the area.
Vibodh Gupta, earlier, welcomed the delegates and the participants representing several prominent business, industry and trade fraternities in the Sammelan.
Dr. Manyal, later, presented the note of thanks appreciating the efforts of the organizing team, the resource-persons and the participants.
Neeraj Anand conducted the programme proceedings.
(NOTE: PRESS RELEASE PUBLISHED AS RECEIVED)