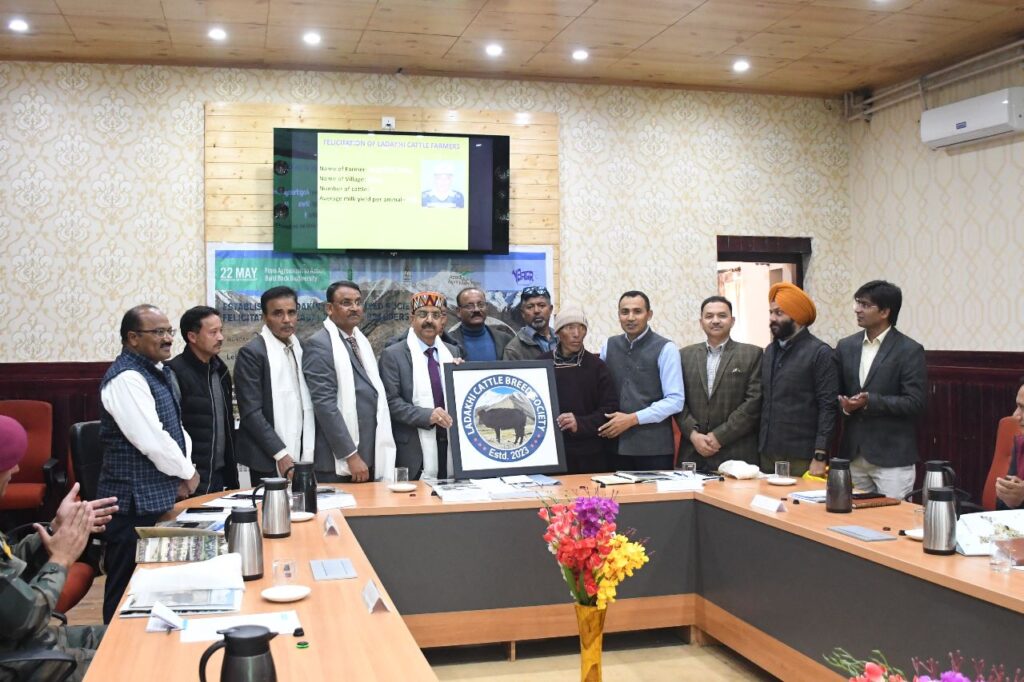 Felicitates Ladakhi cattle breeders for their contributions to conserving indigenous cattle breeds/populations
Leh, May 22: The ICAR – National Bureau of Animal Genetic Resources, Karnal, Haryana in collaboration with the Animal Husbandry Department organised an event aimed at raising awareness among stakeholders about the invaluable animal genetic resources and the importance of biodiversity preservation on May 22 at DC Conference Hall.
 
The event also served as an occasion to honor the livestock keepers for their commendable role as protectors of indigenous breeds and populations in Ladakh.

Deputy Director General (Animal Science), ICAR Delhi. Dr B N Tripathi chief guest informed that ICAR has conducted a comprehensive study on the benefits of Ladakhi cattle milk, emphasizing the need for the UT administration to leverage its potential for various purposes. He also suggested implementing value-addition strategies to enhance the value and utilization of Ladakhi cattle milk.

Further, he added that with a livestock population surpassing that of human inhabitants, Ladakh stands out as the only region in which livestock plays a crucial role, highlighting its significance for the local community. Also, added that livestock not only sustains life in this region but also plays a pivotal role in maintaining biodiversity and preserving the delicate balance of nature.
 
Additionally, he advised the stakeholders to adopt scientific farm practices and implement a well-defined breeding plan to maximize the productivity and sustainability of livestock farming in Ladakh.

Expressing gratitude to ICAR, Secretary, Department of Animal Husbandry, UT Ladakh, Ravinder Kumar added that it served as a significant step towards fostering greater understanding, appreciation, and support for the livestock keepers who play a pivotal role in the conservation of indigenous breeds and the preservation of biodiversity. Also, he added that through such collaborative efforts, they aim to raise awareness, build capacity, and create an enabling environment for the protection and promotion of indigenous animal breeds and populations in Ladakh.

Experts delivered insightful presentations on the importance of preserving indigenous breeds and the need to promote their sustainable utilization for the benefit of both livestock keepers and the society at large.

Assistant Director General (AP&B).ICAR,New Delhi. Dr PK Rout; Director, ICAR-NBAGR, Karnal, Dr BP Mishra and Principal Scientist, ICAR-NBAGR, Karnal, Dr Manishi Mulkesh spoke during the event.
Earlier, Incharge Director , Animal Husbandry Department, UT Ladakh, Dr Mohd Iqbal welcomed the guest and briefed about the objective of the event.

Additionally, a Memorandum of Understanding (MoU) was signed between ICAR-NBAGR & Animal Husbandry Department, Ladakh (UT) for the society. Besides, monograph on Ladakhi cattle and logo for Ladakhi Cattle Breed Society was released during the event.
Furthermore, livestock keepers were honored and felicitated during the event for their remarkable contributions to the conservation of indigenous breeds and populations. The awards were presented as a token of gratitude and encouragement to continue their invaluable work.

Later, a technical session on AnGR of Ladakh & Breeding Policy was held. Also, discussion and recommendations on livestock breeding policy were sought from the participants and experts.