DC calls for extending adequate handholding to farmers  
Launches 'Multi Millet Flour' under brand 'Kathua Kheti'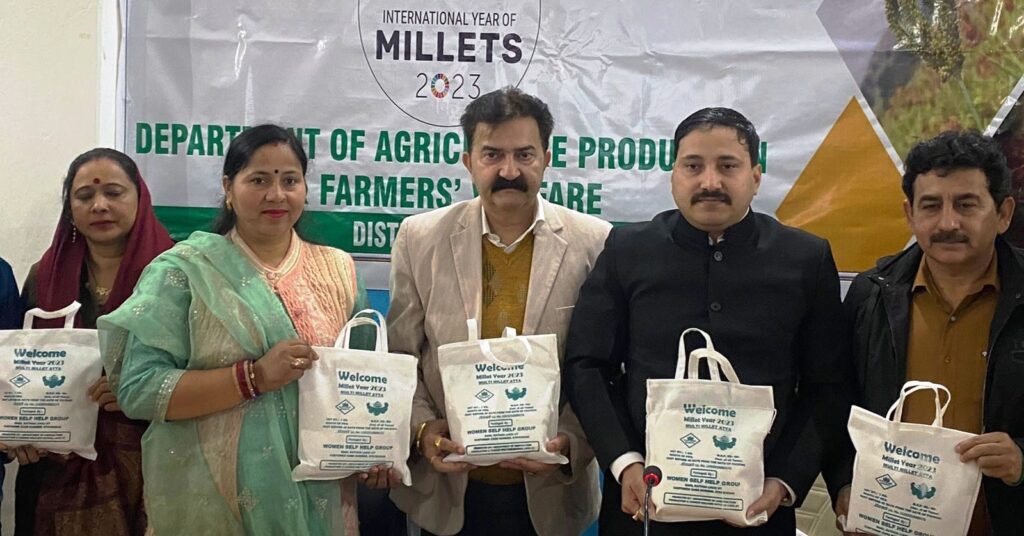 KATHUA, JANUARY 24: To encourage people to use Millet in their daily Consumption, Department of Agriculture & Farmers Welfare Kathua today organised a promotional programme here at its Office.
 Deputy Commissioner, Rahul Pandey, who was the chief guest, inaugurated the programme.
 Pertinently, as proposed by India, the United Nations General Assembly (UNGA) has declared 2023 as the International Year of Millets (IYM).
 Speaking on the occasion, the DC batted for extending adequate handholding to the farmers especially small and marginal farmers to promote millet cultivation. "The farmers can increase their income by adopting Millet as a crop, " he said and added that it being a climate friendly crop, millet can be grown with less water consumption, less carbon emission and even in drought. "Millets provide an alternate food system in present times of increasing demand for vegetarian food, besides contributing to a balanced diet as well as to environment conservation," he added.
 The DC appreciated the Agriculture Department for taking Millet production on mission mode by collaborating with women self help groups, women entrepreneurs and organisations to promote it at a bigger scale. He stressed on laying focus on awareness generation among the masses about the nutritional value of millet so that its  production and consumption can be increased in the coming times.
 Chief Agriculture Officer, Kathua Sanjeev Rai Gupta said that the agriculture department will make efforts to bring more areas under millet cultivation in the district under Holistic development Program launched by Jammu and Kashmir government.
 On the occasion, DC Kathua launched "Multi millet flour" under brand "Kathua Kheti" in presence of Agriculture Officers and members of Women Self Help Groups.
  Millet snacks prepared by Multi Millet Grain Flour were also served to the participants to encourage the use of millets.
  District Agriculture Officer (Ext), Murari Lal,  Head, KVK Kathua Vishal Mahajan and other concerned Officers were also present on the occasion.