Promote financial benefits available for SHGs & conduct capacity building trainings
LEH, Feb 6: The first meeting of the governing body of Ladakh Rural Livelihood Mission (LRLM), formed under the National Rural Livelihood Mission (NRLM), was chaired by Advisor Umang Narula.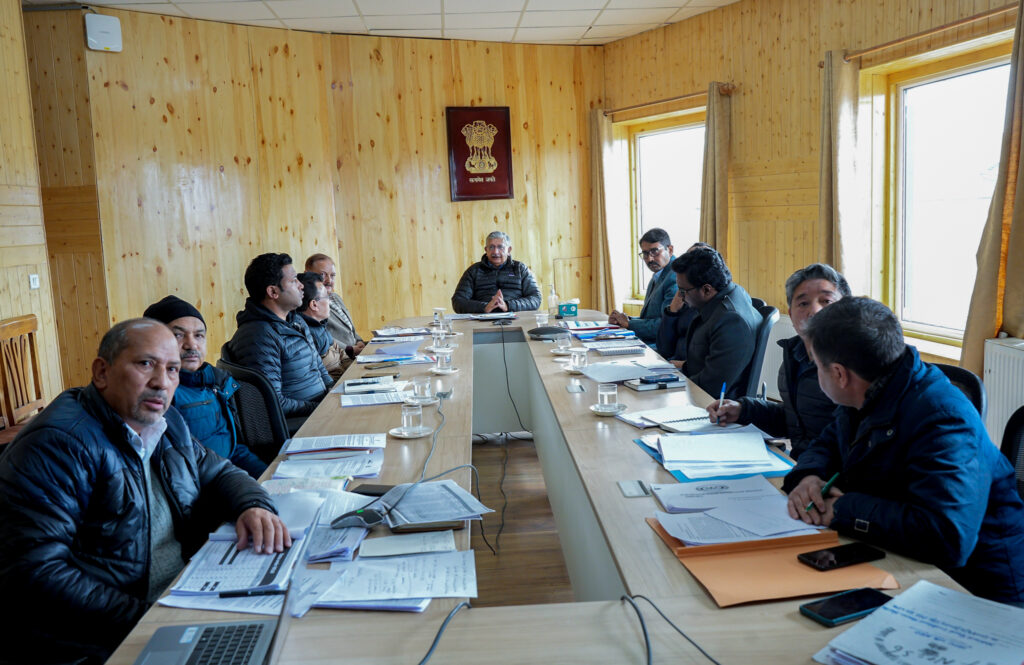 NRLM is a "poverty alleviation project implemented by the Ministry of Rural Development, Government of India. This plan focuses on promoting self-employment and the organization of rural poor" by building sustainable institutes at the grassroots such as Self Help Groups (SHGs) around potential resources.   
Divisional Commissioner Saugat Biswas informed the meeting that the LRLM Society was registered in April 2022. Further, he put forth agenda items on overview of NRLM in Ladakh, engagement of Human Resource and signing of MoU with Resource Organisation – Society of Elimination of Rural Poverty (SERP) Telengana, before the governing body for approval. 
Director Rural Development Department Tahir Hussain through a presentation informed the meeting that more than 700 SHGs have been formed in Ladakh, engaging approximately 6777 women in activities such as tailoring, embroidering, knitting, baking, poultry/dairy farming, vegetable gardening, sanitary pad production, apricot/Sea buckthorn preserve production, etc.
Apart from participating in various fairs across India, SHGs from Leh and Kargil were engaged in stitching National flags & masks which yielded earnings of almost Rs. 30 lakhs.
While discussing capacity-building training programs provided for the SHGs at various national institutes, Advisor Narula urged the Department to take steps to ensure that the essence of such trainings provided trickles down to the end of the chain and that capacity-building programs for SHGs must be held at regular intervals. Panamik SHG Cluster Coordinator informed that the training provided at NIRD&PR, Hyderabad proved vital for their development and requested more such trainings.
Further, SHGs from Kargil informed of their activities such as apricot/apple preserve making and requested the Department for support with facilities of packaging and marketing for expanding their businesses.   
Discussions also took place on financial support available for SHGs and the need to create awareness about the decrease in the rate of interest on loans for SHGs from commercial banks.
Advisor Narula also stressed on fast-tracking the institutional setup of LRLM and highlighted the importance of developing an HR manual, for which assistance shall be provided by the Ministry of Rural Development, GoI, amongst other facilitations. Additionally, engaging an auditor and developing an Annual Action Plan of the Society were highlighted as prerequisites by the Advisor.  
Joint Secretary, NRLM, Ministry of Rural Development, GoI Nita Kejriwal urged RDD Ladakh to ensure that regular meetings are held at the State level while also stressing on time-bound recruitment of required human resource for the proper functioning of LRLM.
Ladakh Rural Livelihood Mission (LRLM) shall sign an MoU with Society of Elimination of Rural Poverty (SERP) Telengana as its resource society which will assist in setting up of SHGs around potential resources, assistance with understanding bank linkages, conducting capacity building workshops and more.
Principal Secretary Dr. Pawan Kotwal, Administrative Secretary Ravinder Kumar, Secretary Tourism K Mehboob Khan, Deputy Commissioner Leh Shrikant Suse and other officials of the concerned departments attended the meeting.