New Delhi [India], January 23 (ANI): Congress MP Deepender Singh Hooda on Monday said that he will file a defamation case against the Wrestling Federation of India (WFI) President and BJP MP Brij Bhushan Sharan Singh after the latter claimed that the allegation of sexual harassment against him by wrestlers was made at the behest of the former Haryana CM Bhupinder Singh Hooda, and his son and Rajya Sabha MP Deepender Singh Hooda.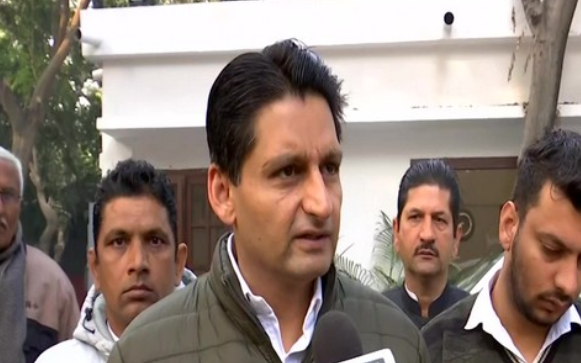 "I don't know why he (WFI chief) has dragged our names. We are taking the legal council to file a defamation suit against him. Our wrestlers are fighting for justice and the entire nation is supporting them.
Independent inquiry must be done," Deepender Singh Hooda said while commenting on allegations levelled against him by WFI Chief. "Our daughters, the women wrestlers are fighting for justice and the entire nation is with them. We also support them. They should get justice," Hooda said while speaking to ANI.

The Congress MP also clarified that his party has nothing to do with the protest by the wrestlers. "We have nothing to do with the protest and that is why we have decided to file a defamation case. Our name is being dragged just to divert the attention, the reasons are best known to him (WFI Chief)," Hooda said.

Earlier on Sunday, former Haryana chief minister Bhupinder Singh Hooda issued a warning to embattled Wrestling Federation of India (WFI) president and BJP MP Brij Bhushan Sharan, saying he should be prepared to receive a defamation suit.

In the eye of a storm amid allegations of sexual harassment and fiscal mismanagement at the helm of the country's top wrestling body, the WFI chief was asked by the Union Sports Ministry to step aside and keep away from the day-to-day functioning of the federation pending the ongoing investigation into the charges by a seven-member oversight committee.

Led by star pugilist and Olympian MC Mary Kom, the probe panel has been asked to hand in its report within four weeks.
Led by star grapplers Vinesh Phogat and Bajrang Punia, the wrestlers sat in protest at Delhi's Jantar Mantar, demanding the sacking of the WFI chief and a complete overhaul of the federation.

The protest, however, was called off after Union Sports Minister Anurag Thakur announced the setting up of the oversight committee to probe the charges against the BJP MP.