KATHUA, June 19: University Institute of Engineering and Technology (UIET), Kathua Campus, University of Jammu organized an Industrial Webinar on "Data Analytics" under the Expert Lecture Series in collaboration with Froyo Technologies, Noida as second lecture under the newly launched the Expert Lecture Series for the students of the campus. The resource person of the webinar was Mr. Rajinder Kumar, Data Scientist, Froyo Technologies, Noida who has an enriching experience of more than 20 years in the IT industry.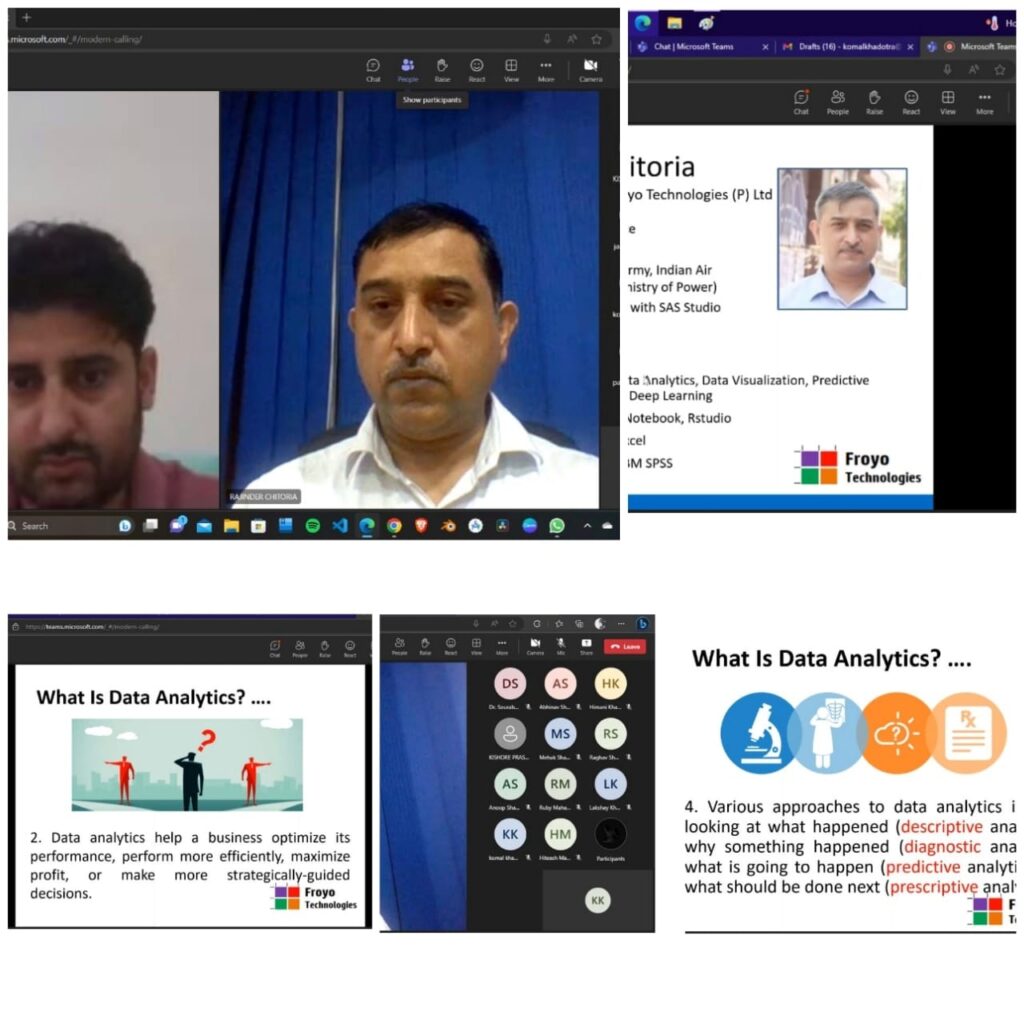 Mr. Kumar stressed on the importance of data analytics as it helps businesses to optimize their performances. He further said that data analytics can be used for making better business decisions and in analyzing customer trends and satisfaction, which ultimately can lead to new and better products and services. He also emphasized that data analytics helps individuals and organizations in transferring raw numbers into informative insights that drive decision-making and thoughtful management.
Dr.Meenakshi Kilam, Rector, Kathua Campus, University of Jammu appreciated and thanked the resource person for sharing valuable knowledge regarding Data Analytics with the students of the Campus. She further stressed on learning data analysis as it covers multiple facets and approaches encompassing diverse techniques and is used in different domains of day to day life. She further encouraged the students of the campus to participate in such webinars as they are being provided with in-depth knowledge of multidisciplinary modules that helps in increasing practical expertise of the students.
Dr. Sourabh Shastri, I/c Coordinator, UIET, Kathua Campus, University of Jammu welcomed the resource person and suggested the students to take maximum benefit from these types of academic activities.
Sh. Kishore Prasad from Froyo Technologies, Noida introduced the resource person. Er. Himani Khajuria coordinated the whole programme and Dr.Rubby Mahajan delivered a vote of thanks.
Er. Sandeep Raj, Dr. Seema Jamwal, Er. Amarjeet Chopra, Er. Komal Khatri, Er. Sushant Gagal, Dr.Shivani Sharma, Er. PalviVerma, Ms. Ritu Sharma, Dr. Nisha Choudhary, Er. Vishavjeet Singh, Er. Sourav Gupta, Dr.Zahin Ansari, Mr. Pranav Ratta and other teaching faculty of the campus were also present during the webinar.
(NOTE: PRESS RELEASE PUBLISHED AS RECEIVED)