Mumbai (Maharashtra) [India], May 23 (ANI): The makers of actor Abhishek Banerjee starrer short film 'Sex, Likes and Stories' has dropped the trailer which gives insight into the dark side of social media in the quirkiest way!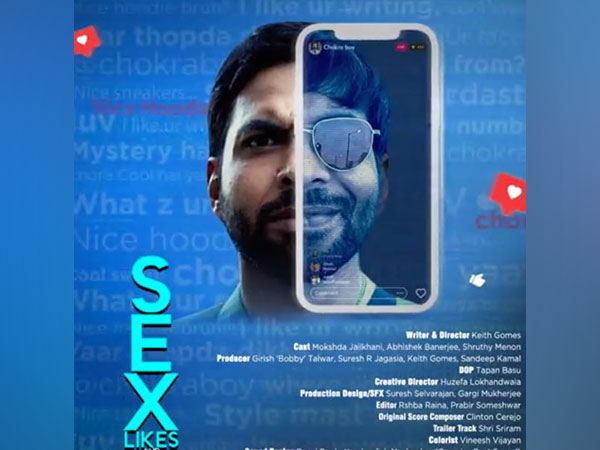 The much-anticipated trailer of the short film has created curiosity amongst the audience. Director Keith Gomes believes that the short film will resonate with most social media users. A fast-paced thriller with a social message will keep the audience on the edge of their seat.

The trailer of 'Sex, Likes & Stories' features the trio chasing validation, seeking love online, and needing to share a story first. Keith Gomes' choice of offbeat topics challenges the social reality through this story of three lives and the mean world index we currently live in.
The trailer claims to be unique as it throws light on mental health issues caused by social media and body shaming.
Abhishek commented on the nature of the short film, "Social media is fun but people can get obsessive about it.
It's a trap where you might get validation for all nonsensical brain activity. At the same time, if you are smart and know how to use the medium, you can actually contribute a lot in terms of the right information and right guidance through your content, or sometimes just have fun with it. It's a fine thread."
Keith immersed himself in this project post his Oscar-eligible 'Shameless'. He captured the essence of Sex, Likes & Stories by shooting on an iPhone. Shot by ace cinematographer Tapan Basu, the actors also shot their own parts, like real users speaking of quirky roles with social messaging.
The director said, "While there are positives, our intention is to spark conversations about the ill effects of social media. Parents post pictures of themselves and their children, who then grow up thinking it's okay to do stuff online.
As research has it, living an online life and constantly seeking validation, leads to mental health issues and depression."
The film will be released on Gomes' YouTube channel on May 25, 2023