Jammu, Jan 23 (PTI) Senior Congress leader Rahul Gandhi's Bharat Jodo Yatra received a warm welcome as it entered the winter capital Jammu from the adjoining Samba district Monday afternoon with authorities further strengthening the security cordon around him.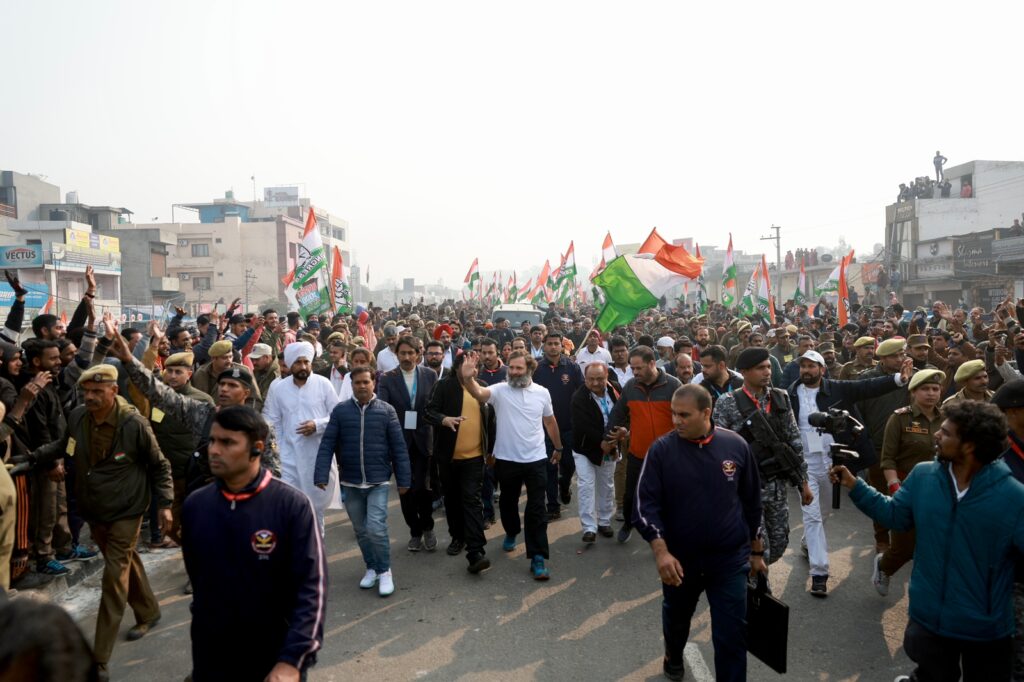 The yatra started from Samba's Vijaypur along the Jammu-Pathankot highway at around 7 am Monday and was received warmly by a massive crowd as it crossed Bari Brahmana in Jammuj's Parmandal.
Earlier, officials said all necessary arrangements were in place for the yatra, which started from Kanyakumari on September 7 and is scheduled to culminate in Srinagar, Jammu and Kashmir summer capital, on January 30. Gandhi is scheduled to hoist the national flag at his party headquarters at a mega rally to mark the culmination of the march.
Amid chants of 'Nafrat Chhodo, Bharat Jodo (essentially denouncing hatred to unite India)', the yatra witnessed a huge number of policemen joining the security ring around the Gandhi family scion at Kaluchak as it moved ahead towards its Satwari Chowk.
Gandhi will address a gathering at the Satwari Chowk before moving to Sidhra for the night halt.
Former Madhya Pradesh Chief Minister Digvijaya Singh, Congress General Secretary (Organisation) K C Venugopal, AICC communication incharge Jairam Ramesh, J&K Congress chief Vikar Rasool Wani, his predecessor G A Mir, working president Raman Bhalla and former minister Tariq Hamid Karra joined the yatra on its 129th day.
They were joined by a large number of party workers and supporters who were walking with the tricolour.
Thousands of people have gathered to receive the march at Kunjwani, where a large delegation of Peoples Democratic Party (PDP) led by General Secretary (central) S Amreet Singh Reen were waiting to join the yatra.
"We have come to support Gandhi who is moving with a message to strengthen the unity and remove hatred in the country," senior PDP leader and former legislator Firdous Ahmad Tak said.
He said the beauty of the country is 'unity in diversity' and such an initiative was the need of the hour in view of the "massive onslaught unleashed by the ruling dispensation" on the country's social fabric.
"Gandhi was able to convey his message in a powerful way across the country and even those who are not able to participate in the yatra are appreciating his message," he said.
Congress working president thanked the people for their tremendous response to the yatra. "Not only the Congressmen but the common people are joining the yatra and sharing the concerns raised by Gandhi over the divisive politics prevalent in the country."
He said people are very happy with Gandhi who is listening to their issues which is very important.