In the heart of New York City, where diverse culinary experiences intertwine, a hidden gem has emerged, redefining the very essence of taco culture. Taco Mahal, a captivating eatery that seamlessly marries Latin American traditions with the vibrant flavors of India, has swiftly risen to fame as a must-visit destination for food enthusiasts and adventurers alike. Among their array of mouthwatering offerings, one delicacy stands out, leaving taste buds dancing with delight – the Cheesy Naan Tacos.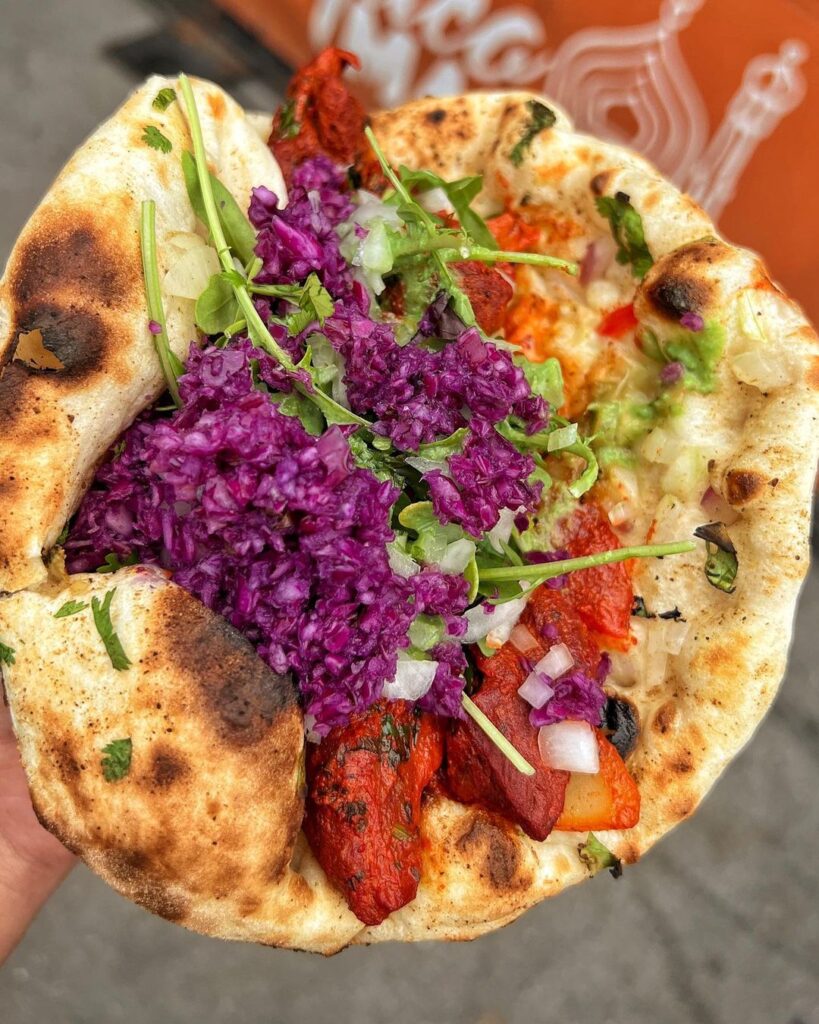 Taco Mahal, with its two convenient locations in the bustling city, boasts a charming ambiance that sets the stage for an extraordinary culinary journey. Whether you find yourself in the trendy West Village, located at 73 7th Ave S, New York, NY, 10014, or amidst the vibrant energy of Hell's Kitchen at 653 9th Ave, New York, NY 10036, you're in for an unforgettable treat.
At the heart of the culinary marvels served at Taco Mahal are the Cheesy Naan Tacos, a fusion of cultures and flavors that transcend borders. Among these delectable creations, the Cheesy Garlic Naan Taco with Chicken Tikka Masala shines as a true crowd-pleaser. Imagine sinking your teeth into tender chicken tikka masala, enveloped in the warm embrace of freshly baked garlic naan, all brought together with a generous helping of gooey melted cheese. It's a symphony of tastes that transport you from the busy streets of New York to the vibrant markets of India.
Reviews from thrilled patrons echo the sentiments of a culinary adventure like no other. A Yelp reviewer couldn't contain their enthusiasm, describing the Cheesy Garlic Naan Taco as "incredible" and praising the bold authenticity of the chicken's flavors. It's a testament to Taco Mahal's dedication to crafting a dining experience that tantalizes every sense.
Not to be outdone, the Chana Masala Cheesy Naan Taco has also captured the hearts of many. One enthusiastic diner, showcasing their love for the eatery on short video platforms, declared it to be one of their favorite spots in the city. The combination of flavorful chana masala, velvety cheese, and the comforting embrace of naan takes your taste buds on a journey through the vibrant streets of India, right in the heart of the city that never sleeps.
Taco Mahal has indeed raised the bar, introducing a culinary crossroads where cultures merge and flavors harmonize. As you explore the bustling streets of New York City, don't miss the chance to embark on a gastronomic adventure that promises to be as memorable as it is delectable. Whether you're a devoted foodie or a curious traveler, the Cheesy Naan Tacos at Taco Mahal are an experience you won't want to miss.