LEH, May 24: On May 25, 2023, Steve Marsella shall be arriving in Leh to lead 1Ladakh FC, the first professional football team from Ladakh as Head Coach. During his month-long stay, he will conduct trials, coach the technical staff, and provide basic coaching to budding footballers, as well as the senior men's and women's teams of UT Ladakh.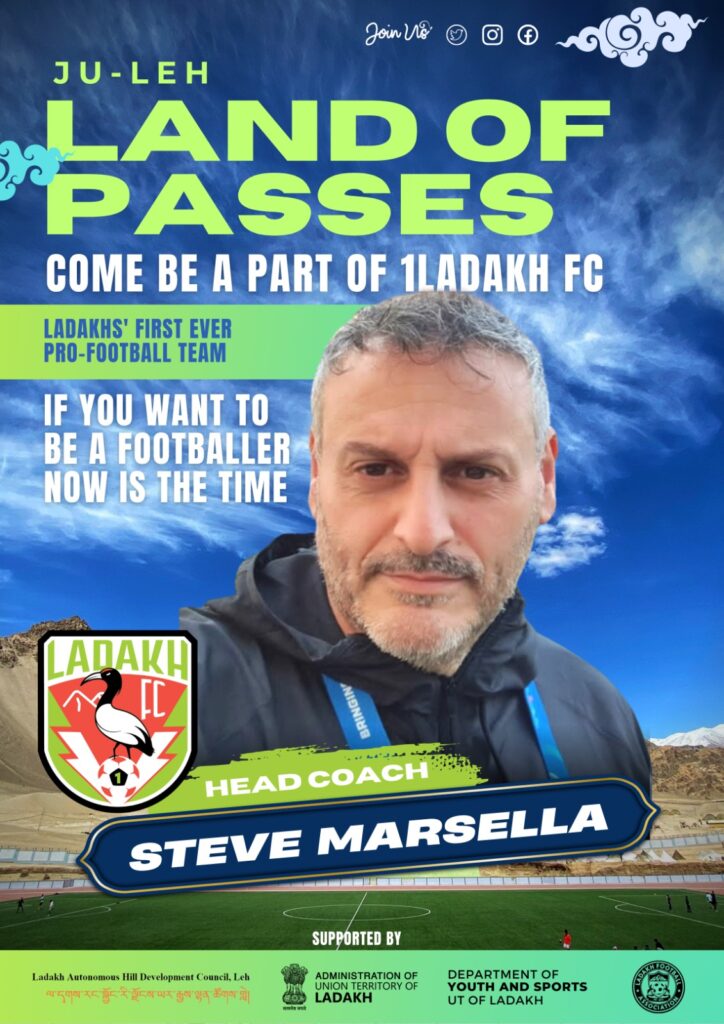 The active support of the UT Administration, LAHDC Leh, and the Ladakh Football Association has made this exhilarating journey of skill, determination, and competition in football in Ladakh possible. The recently launched 1 Ladakh FC will conduct trials in the next two weeks, aiming to harness and nurture the abundant talent from Ladakh. In line with this vision, the Ladakh Football Club, with the support of LAHDC Leh and UT Administration, is in discussions to send a group of 5-6 top players from Ladakh to Europe this year. This opportunity will provide them with optimal training and exposure, enabling them to become exemplary professionals and shine not only for their country but also for the Ladakh region.
1 Ladakh FC has set a commendable goal to become the cleanest and greenest football team in India. With a vision to raise awareness about nature and climate change through football, their aim is to encourage the people of Ladakh and the entire nation to embrace sustainable practices in their lives.
For the first time in Ladakh's history, a professional football coach, Coach Steve, will be training budding footballers and the technical staff of UT Ladakh. Additionally, Coach Steve will closely collaborate with local coaches and the youth services department, conducting workshops on implementing modern techniques and coaching methods in Ladakh.
Coming all the way from England, Coach Steve Marsella brings with him an illustrious career as both a coach and talent spotter. With experience as an assistant to ex-England Manager Sven Goran Erikkson and ex-England captain Terry Butcher, Coach Steve's expertise is highly regarded. Over his nearly three-decade-long journey, he has coached at Scottish Premier League clubs, English championship clubs, and served as a youth coach at Leeds United FC. His vast knowledge and rich background promise to be invaluable assets to the football development in Ladakh.
In Asia, Steve has worked with the Philippines National Team and also coached Global FC in their AFC championships.  Officials of the Administration of UT of Ladakh, LAHDC Leh and members of LFA will be welcoming the coach Steve Marsella at the airport.