SRINAGAR, JUNE 22: The 9th International Yoga Day, centred around the theme 'Vasudhaiva Kutumbakam,' translating to One Earth, One Future, One Family', was celebrated with high fervour and enthusiasm at office of the State Taxes Department, Kashmir here today.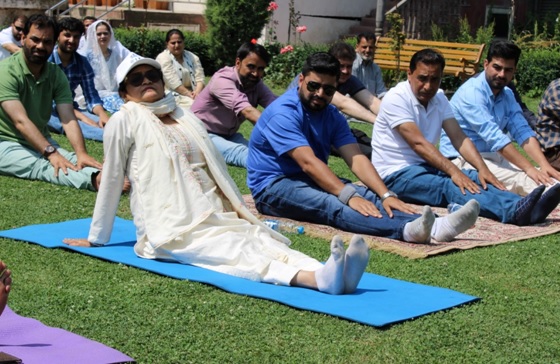 Commissioner State Taxes, Dr. Rashmi Singh, inaugurated an event held to commemorate the observance of this auspicious day.
Additional Commissioner (Administration and Enforcement), Kashmir, Shakeel Maqbool, Deputy Commissioners, STOs and other officials of the department were present on the occasion.
The participants performed various Yog Asanas under the guidance of Yoga instructor who emphasized the necessity and impact of human body and mind flexibility. He illustrated the stages involved in different yoga Asanas and discussed the benefits of Pranayam, Anulom-Vilom, Bhramari Pranayama, and other practices.
Speaking on the occasion, Commissioner State Taxes, urged upon all the participants to include Yoga into their everyday lives to live a healthy and stress free life, as it embodies the unification of mind and body. She also underlined the importance of including some forms of physical activity into one's daily routine in order to increase flexibility and make Yoga a way of life.