UDHAMPUR, September 19: As a part of fortnightly activities under celebrations of Gandhi Jayanti, the Department of Music in collaboration with Department of Dogri and Hindi of Government College for Women (GCW), Udhampur organized an Intra-college singing competition on the theme Gandhi's favorite Bhajan and essay writing competition on the topic Truth and Non- Violence at college campus here today.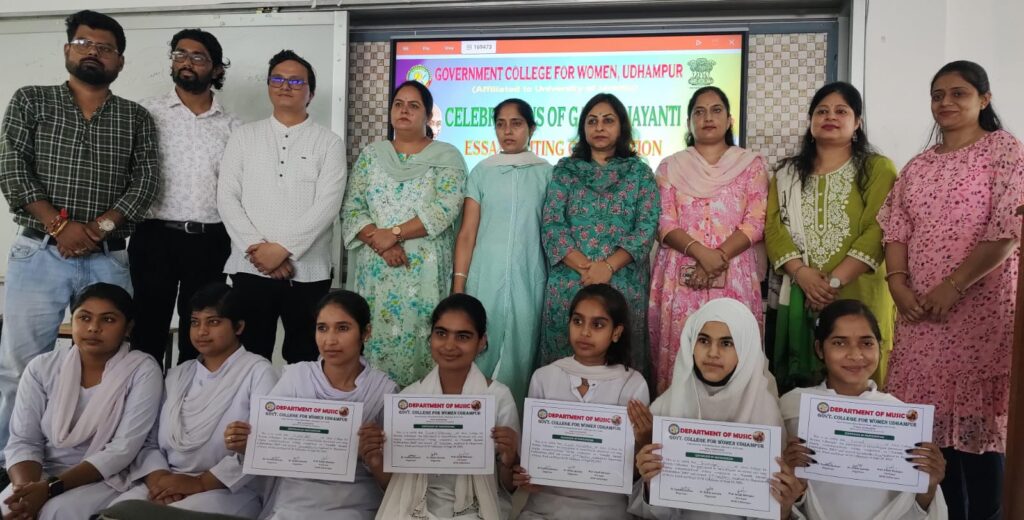 Principal of host college Prof. Anjali Mahajan was the Chief Guest on the occasion.
As many as 16 Students of the colleges participated in 'Gandhi's favorite Bhajan' competition. In the competition, Sonia Verma of Semester 5th was adjudged best singer, Primta of Semester 5th  bagged 2nd position, while third position was given to Surbhi Sharma of Semester 5th . Besides Tammna Devi and Manvai Chnayal of Semester 5th were given consolation prizes. The competition was adjudged by the panel of experts in music including Assistant Prof. Dr. Shallu Jasrotia, Assistant Prof. Dr. Sanjay Kumar and Lecturer (AA) Nitika Sharma.
In Essay writing competition a total of 23 students participated and wrote multi-lingual essays on the theme   'Truth and Non-violence'.   Surbhi Sharma of semester V secured 1st position, while Sumiya of semester 1and Swati Gandotra of semester V secured 2nd and 3rd position respectively.   Shallu Devi of 5th semester and Komal of 3rd semester got consolation prizes.  The essay writing competition was adjudged by Dr. Mool Raj, HOD Urdu, Prof. Mushtaq, HOD Hindi, Ms. Preeti Sharma from the department of English.
  A large number of students attended the event.