JAMMU, September 19: Expressing serious concern over rising militancy and fresh infiltrations and presence of terrorists in border districts of Rajouri Poonch, JKPCC has urged the LG administration  to step up vigil, presence of army and security forces and strengthen village defence mechanism in all remote & vulnerable areas including Narla- sajali area of Kalakote, which witnessed fierce encounter last week, killing two terrorists and an army jawan besides  injuries to three other security men & villagers fear retaliation.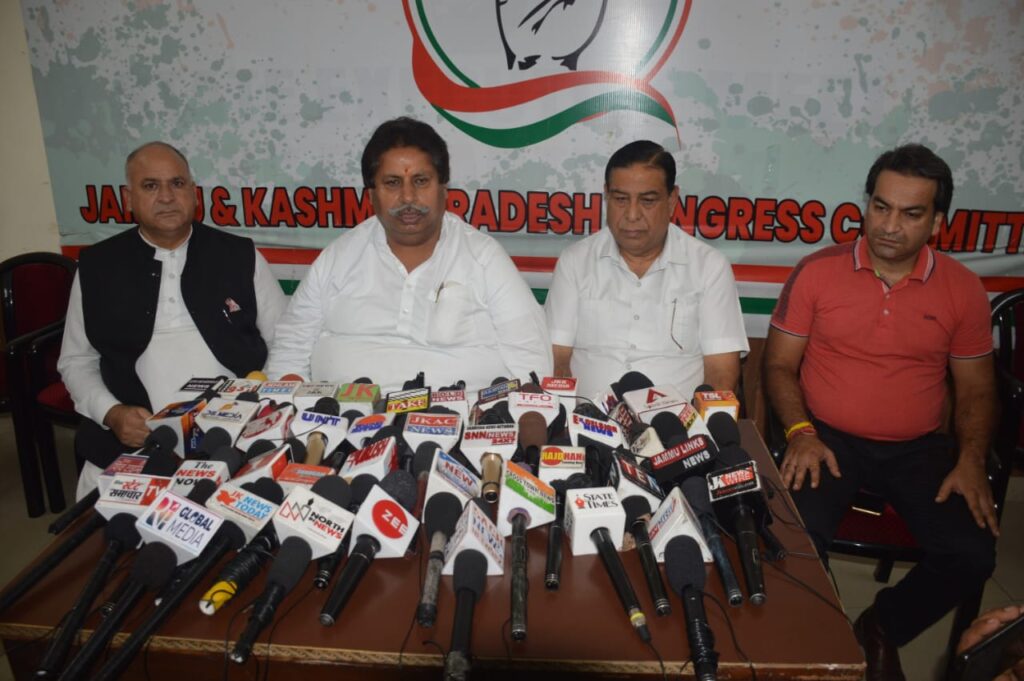 Addressing a press conference, JKPCC Working President Shri Raman Bhalla & Chief Spokesperson Shri Ravinder Sharma, along with Former Minister & Dist president Rajouri Mr. Shabir Ahmed Khan & PCC Spokesperson Kapil Singh  said that Dhangri type incident has been averted by the timely information by one Prem Lal Sharma shepherd of Sajali Gala in Narla area & the quick action of army and security forces but anything can happen again, as people fear retaliation in absence of an army post and strengthening of VDC with modern weapons.
 Prem Lal Sharma was in the terrorists captivity for three  four hours and his phone and contact numbers were noted by two terrorists before his escape. 
Shri Bhalla said  that there are fresh media reports of increased presence of terrorists in the twin border districts causing sense  of insecurity amongst the people in remote far flung areas. In last two years several attempts have been made resulting into martyrdom of several innocent civilians and army, security personal. 
He said  Mr Ravinder  Sharma, former MLC  & Chief Spokesperson of the party who visited the area, a couple of days ago witnessed the fear & sense of insecurity amongst population in areas of recent encounter In Narla,Sajali Gala and other remote area of  Kalakote and demanded  deployment of security posts and  strengthen village defence mecu by supplying modern weapons to the villagers in vulnerable areas. Prem Lal Sharma said he fears retaliation but there is no presence of forces or post in the village. 
 Bhalla said congress has written to  the LG administration urging him to strengthen the village defense mechanism in vulnerable areas of Kalakote besides in all such remote and far flung areas of the twin border districts. 
JKPCC Chief Spokesperson said that he failed to notice any security presence in the area just two days post encounter when there is still fear in the area. The government claims of deployment of forces and strengthen of Village defence mechanism with sophisticated weapons is totally missing. 
Besides Prem Lal sharma, Naseer Ahmed Panch, Madan Lal, Krishan Lal, kuldeep kumar , Gulshan Kumar and several other were present. 
Reacting to the cabinet decision regarding 33 percent reservation for women, the Senior Congress leaders  said that the Congress has already passed the bill in Rajya Sabha in, 2010 besides giving 33% reservation to women in panchayats and ULBs whereby 15 lakh women representatives are elected today including 8300 inJ&K.
Congress is committed to support the bill after it's contents are known. 
Our leader Sonia Gandhi and Rahul Gandhi ji have written twice to Prime Minister Modi ji to pass the women bill extending full support. 
However, they regretted that LG administration has still not  implemented 74th amendment,  as the state election Commission has no jurisdiction over the ULB elections while the Panchayat elections are under the commission (SEC). Even In one UT, there are two sets of norms for ULBs and rural panchayats, they took the dig on the BJP & the UT administration. 
Former Minister Shabir Ahmed Khan, who is also Vice Chairman of DDC Rajouri, demanded special attention of Rajouri – Poonch which is border belt and demanded creation of the post of Divisional commissioner for twin districts, as there was a special commissioner for the border  region in mid nineties also. There is immediate need to strengthen the administrative and security apparatus in the border region, he pleaded while questioning lack of state election Commission for urban PRIs like for rural in J&K.
(NOTE: PRESS RELEASE PUBLISHED AS RECEIVED)