Cannes [France], May 24 (ANI): Netizens are surprised to see how the ongoing 76th edition of the Cannes Film Festival is being attended by social media influencers apart from A-listers. Many have even expressed disappointment with the state of the prestigious Cannes Film Festival, emphasising that the festival, which is meant to celebrate the art of filmmaking, is now dominated by fashion.
Amid this debate, actor Richa Chadha, who is currently in Cannes, has voiced her opinion.
Taking to Instagram Story, Richa wrote, "There's a lot of chatter on social media about Cannes, Fashion, film etc. Just wanna say, don't s**t on anyone please. People are excited to be here, I notice the ones that are thanking brands/designers/ alcohol labels that are bringing their influencers here. It's a gear venue for marketing no? Let them be. You will notice most people say they're at the red carpet but won't specify the film.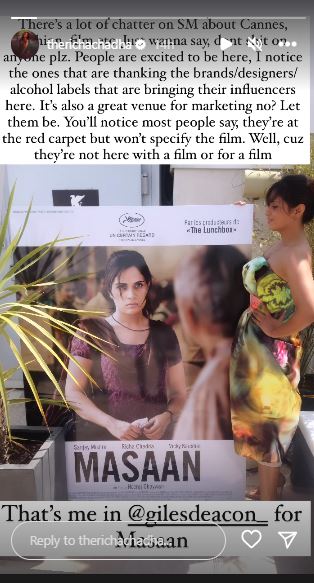 Well, they're not here with a film or for a film. Having said that, should you be so lucky to get to work on a film that ends up at Cannes… it's the best feeling in the world. It's after all a FILM FESTIVAL, no matter what anyone says. And as an artist, there's no greater joy and contentment than a 7 min long standing ovation."
Recently, filmmaker Nandita Das took a dig at celebrities for attending Cannes film festival just for the red carpet presence.
Sharing several throwback pictures from the festival, the Zwigato director wrote, "Sadly missing Cannes this year. Sometimes people seem to forget that it is a festival of films and not of clothes!"
"Considering I can't show you the amazing films I watched or the conversations I have had or take you back in time when Manto premiered there. Here are a few images through the years in Cannes. And only the ones in Saris as there is a fair amount of chatter about the 'celebrities who wore saris in Cannes'. Well it is surely my go-to garment. Simple, elegant and Indian. Least fussy – easy to get in and get out of it!" she added.
Cannes 2023 started on May 16 and will continue until May 27.