BULANDSHAHAR (UP) JUNE 10 – Senior BJP leader Devender Singh Rana today said the hallmark of Prime Minister Narendra Modi's nine-year government has been welfare and uplift of the poor, with special focus on women and marginalized segments of the society.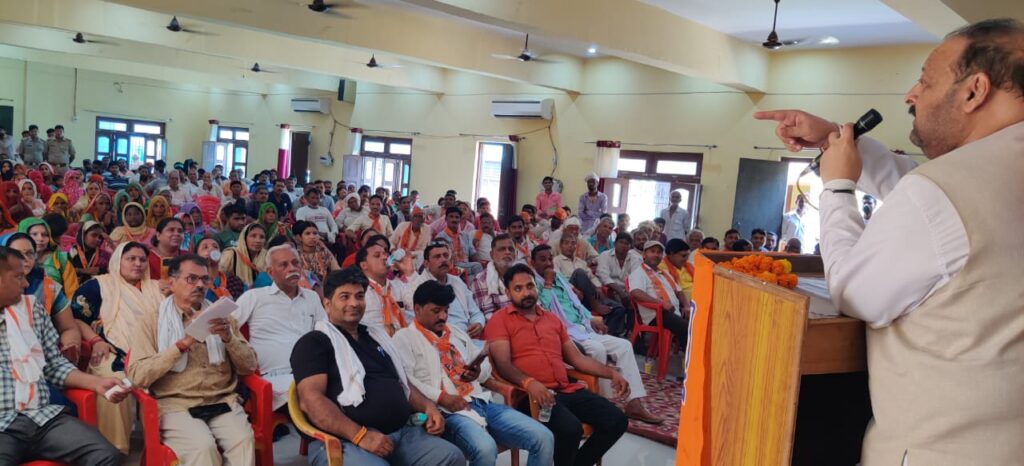 During his hectic schedule of reaching out to the people as part of the BJP's Jan Abhiyan, Rana addressed a Morcha Samelan in Siyana here and said, "BJP's endeavour to reach out the last person in the society has been guiding philosophy for the Modi government during the past nine years."
To substantiate his point, Rana gave a detailed overview of some of the many schemes aimed at helping the poor, including Ujjwala Yojna under which over 9.60 free LPG connections have been provided to the families living below the poverty line. Similarly Pradhan Mantri Street Vendor's Atmanirbhar Nidhi scheme has greatly helped the street vendors resume their livelihood, especially after getting impacted by Covid pandemic, he maintained.
The Senior BJP leader also referred to PM Jan Arogya Yojna, (PMJAY designed to provide Rs. 5 Lakhs per family per year for free and quality healthcare services to vulnerable families. So far 50 crore population has benefitted under the Ayushman Bharat Health Insurance Scheme. He said the entire population of Jammu and Kashmir, irrespective of economic status of the people, is covered under the scheme. Similarly, he referred to the Jal Jeewan Mission and said that 60 percent of households have got safe drinking water since the inception of the scheme. Citing various schemes, he said 80 crore people have benefitted in terms of foodgrains under the PM Garib Kalyan Ann Yojna. 
Rana also referred to the flagship social security schemes like Pradhan Mantri Suraksha Bima Yojana (PMJJBY), Pradhan Mantri Jeevan Jyoti Bima Yojana (PMSBY) and Atal Pension Yojana (APY) and said these have hugely benefited the targeted segments of the society.
Rana recalled the vision behind Jan Suraksha schemes way back in 2015, just a year after taking over the reins of the government, and referred to the launch of the National Mission for Financial Inclusion with an avowed objective of ensuring that every citizen in India has access to banking facilities, financial literacy, and social security coverage. He said India is perhaps the only country that witnessed opening of bank accounts by a sizable population in a record period. Seen in this backdrop, the digital transactions have become popular with the lowest strata of the society including even vendors, he said while adding that the Jan Suraksha Schemes aim at the well-being of citizens, acknowledging the importance of safeguarding human life against unforeseen risks, losses, and financial uncertainties. These schemes also provide essential financial services to individuals from underprivileged backgrounds, thereby reducing their financial vulnerability, Rana said.
Rana also addressed a Beneficiaries Conferences at Jahangirabad and Debai and visited Pardada Pardadi School in Anoopshahr as part of Sampark Se Samarthan Programme.

(NOTE: PRESS RELEASE PUBLISHED AS RECEIVED)