Mumbai (Maharashtra) [India], March 13 (ANI): As Ratna Pathak Shah and Raj Babbar starrer 'Happy Family' has been receiving a positive response from the audience, the actress opened up about playing the role of Hemlata Ben in the comedy series.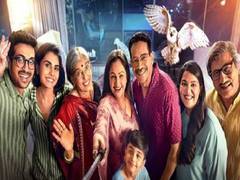 The family comedy series revolves around a joint family of four generations living under one roof, stirring humor and drama. It's a tale of togetherness while spilling humor off their antiques and collective differences.
The series stars an ensemble cast comprising Ratna Pathak Shah, Raj Babbar, Atul Kulkarni, Ayesha Julka, Raunaq Kamdar, Meenal Sahu, Sanah Kapur, and Ahaan Saboo in pivotal roles.
Among so many relatable characters, one character that stood out and received positive response from the audience is that of Hemlata Ben, the not-so-typical Baa played by critically acclaimed actress, Ratna Pathak Shah.
Sharing her response to being offered the role of Hemalata Ben in the series, Happy Family: Conditions Apply, Ratna Pathak said, "Hemlata is an unusual woman, she's not nice, she's not smooth and she has got all kinds of unpleasantness, yet she's charming. It's the contrasts of these characters that make a comedy, if everyone is alike then there's no humor, that is the fun part of it."
Ratna, who had previously collaborated with JD Majethia and Aatish Kapadia in Sarabhai vs Sarabhai, said that "working with the creators on Happy Family was a joyful experience. She added, "Sarabhai's success absolutely justified my faith in Aatish and JD's abilities as creators, so I've been extremely happy and looking forward to working with them again. They are at the top of their game in the present-day of commercial-Hindi language comedy programming. I felt that they're more assured, particularly Aatish who is willing to take more risks and do what's not been tried before like Happy Family: Conditions Apply. This series is a rather unusual concept where you're swinging from something pretty serious and valuable socially to something absolutely ridiculous and this constant swinging keeps happening. Aatish is much more assured as a writer as well as a director and he's much more willing to take risks and experiment more. JD has also grown greatly as a producer. His confidence and his ability to keep a team going and keep them happy together has also grown manifold."
'Happy Family: Conditions Apply' is created by Jamnadas Majethia and Aatish Kapadia, under the banner Hats Off Productions. The series is streaming exclusively on Prime Video. (ANI)