JAMMU, MAY 23: Career Counselling and Placement Cell of Padma Shri Padma Sachdev Government College for Women Gandhinagar, joining hands with TBS, University of Jammu, today conducted an Awareness Programme on "Career Options in MBA".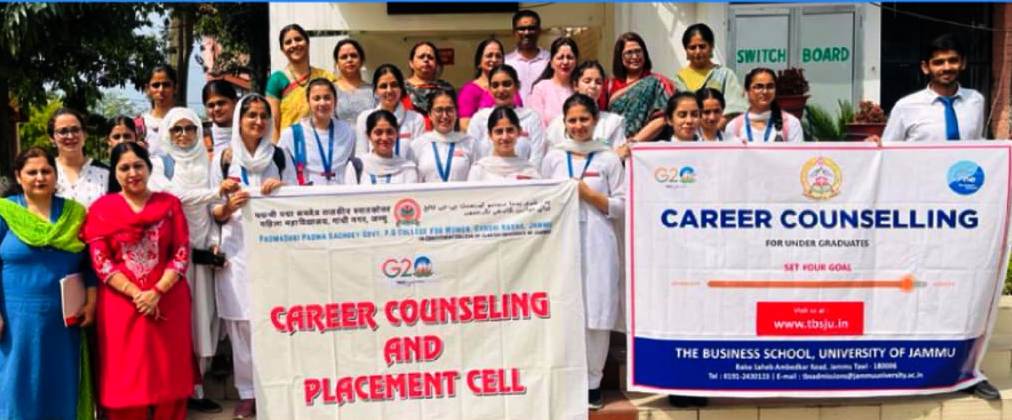 The Programme started with the formal welcome of the Resource Persons for the day – Prof. Alka Sharma,  and Director SIIEDC; Dr. Rachna Mahajan, Associate Professor ; Dr. Farah Choudhary , Senior Assistant Professor ; Ishan,  Aditya,  Aryan – the  Students of Semester-2  from TBS as young motivational speakers; Prof. Minu Mahajan, Principal of the College; a galaxy of Intellectuals and around 470 students of outgoing Semester -6.
Prof. Minu Mahajan, in her address, encouraged the students to keep the flame of knowledge always on. To recognize their strengths, learn by the experience of others. She also enlightened  the students about the importance of goal setting in life and how the Career Counselling Cell of the College is striving hard to apprise students to meet the challenges of life.
  The Resource Persons deliberated on various career options associated with the MBA Program through a powerpoint presentation. They also apprised students about  IMA Entrance test , CAT , MAT Test wherein the focus was upon  registration, preparation , syllabus , exam pattern etc. The lecture concluded with the  interaction and question answer session.
    The Proceedings of the programme were conducted by Prof. Neelam Thapa and  concluded with the formal Vote of thanks by Prof.Renu Rajput.
The whole programme was coordinated by Prof. Rajni Kumari, Convener Career Counseling Cell and members- Prof. Malti Rajput, Prof. Suman Bala, Prof. Sugandha Mahajan and Prof. Rajinder Kumar.