SRINAGAR, June 22: The Director Jammu and Kashmir Entrepreneurship Development Institute (JKEDI) Ajaz Ahmad Bhat, who is also the Prabhari Officer of Shadab Karewa under the Back to Village program (B2V4) of the J&K Government, conducted a comprehensive review of various schemes implemented by line departments in the region.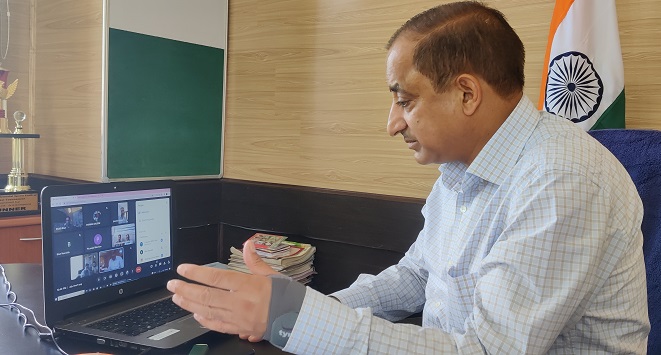 The meeting was held virtually today and aimed to assess the progress made in empowering rural communities and uplifting the lives of the people through effective program implementation.
The Back to Village program, a flagship initiative of the J&K Government, focuses on bringing administration and development closer to the grassroots level. As the Prabhari Officer for Shadab Karewa, Ajaz Ahmad Bhat led the review with a keen eye for assessing the impact of the implemented schemes.
The meeting saw the active participation of representatives from different line departments responsible for the execution of key programs in the region. The collaborative session aimed to evaluate the effectiveness and efficiency of the schemes, identify areas of improvement, and strategize ways to enhance the overall development outcomes.
Prabhari Officer emphasized the importance of these schemes in promoting socio-economic growth, particularly in rural areas. He emphasized the need for continued dedication and coordination to achieve the desired results. He also directed the officers to ensure 100 percent target achievement of various self-employment schemes as per the directions of Chief Secretary, J&K.
During the review, he analyzed the implementation of various schemes, including Jal Shakti, livelihood support programs, agricultural interventions, and infrastructure projects and issues related to the education department. The evaluation encompassed assessing the impact on local communities, the utilization of allocated resources, and the extent of the schemes' coverage.
He also emphasized the need for continuous monitoring, timely troubleshooting, and effective communication between stakeholders to ensure the smooth functioning of these schemes.
The review concluded with Prabhari Officer expressing his gratitude to the Deputy Commissioner, Shopian and to all the officers for their valuable insights and dedication. He assured continued support from the government to address any challenges faced and to facilitate the successful execution of these programs for the welfare and empowerment of the region's residents.