Islamabad [Pakistan], January 22 (ANI): Pakistan Tehreek-e-Insaf (PTI) chairman Imran Khan on Saturday admitted that funds that he donated to the Shaukat Khanum Memorial Trust (SKMT) for charity work, were in turn invested in a private housing project, the Dawn newspaper reported.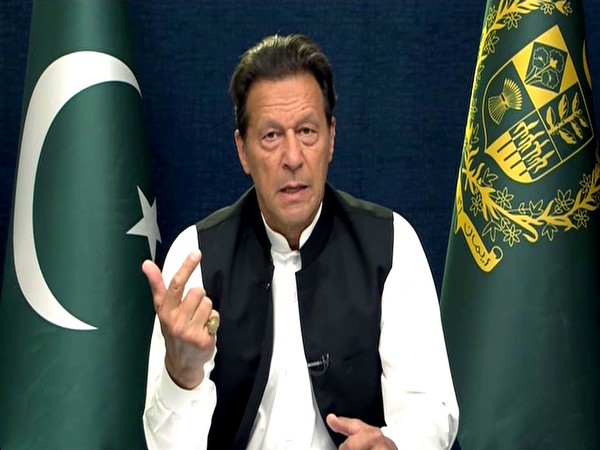 Khan said the SKMT board of directors had informed him about investing the funds worth USD 3 million in a private housing project. He, however, clarified that the amount was later returned to the trust, the Pakistan-based newspaper reported. The SKMT is a charitable organization established under Pakistan's Societies Registration Act XXI of 1860.
The revelation came during the hearing of Rs 10 billion defamation case that Khan filed against Pakistan Muslim League(PML-N) leader Khawaja Asif who is now Pakistan's defence minister.

The proceeding was conducted by Additional District and Sessions Judge Umeed Ali Baloch. Lawyers from both parties attended the hearing which Khan joined through a video link from his residence in Lahore's Zaman Park.

Khan during cross-examination by Asif's counsel Barrister Haider Rasool disclosed that SKMT's board of directors had informed him about investing in the private housing society, the Dawn reported.

Khan, however, said that he does not remember the name of the housing project and whether the board had informed him through writing. He said the board members later returned the USD 3 million and that the matter was settled.
However, Barrister Rasool said that the matter was not settled as the dollar's rate was Rs 60 at the time of the investment and it doubled to Rs 120 when the investment matured.

After the counsel requested the court to adjourn proceedings and insisted that he would conclude the cross-examination in a couple of hours in the next hearing, Khan said the matter could have been resolved early if the case was handled truthfully.

The court then adjourned the hearing, the Dawn reported.
Khan had in 2012, filed the Rs 10 billion defamation suit against Asif for leveling allegations of misappropriation and money laundering through the SKMT funds.
Khan in his suit referred to Asif's August 1, 2012 press conference in which Asif had alleged that the PTI chief had lost a huge amount of funds donated to the SKMT in "real estate gambling". The funds, he said, were given to the trust in the forms of zakat, fitrana, and other kinds of donations.

Khan said that Asif's allegations were fabricated and baseless and were made to undermine people's confidence in the trust.