UDHAMPUR, Jan 21: A one day awareness camp on Centrally Sponsored Scheme Prime Minister's Formalisation of Micro Food Processing Enterprises, under Ministry of Food Processing, was held today by the Department of Horticulture Planning and Marketing Udhampur at Block Office Jaganoo.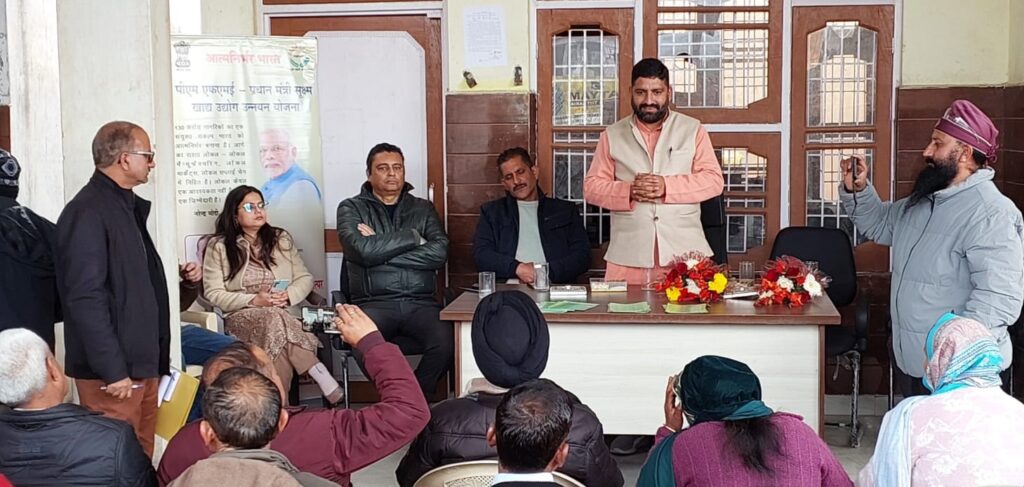 DDC Councillor Jaganoo, Prikshit Singh was the chief guest.
 Apart from Sarpanch Jaganoo & Thanoa, Area Marketing Officer Udhampur-Reasi, Senior Scientist SKUAST Jammu, DLSMS Horticulture, Assistant Registrar Cooperatives, Manager J&K Bank Jaganoo, AEO Jaganoo also addressed the gathering.
It was emphasized by the Area Marketing Officer Udhampur to avail benefits of PMFME, a self employment scheme in agriculture processing sector. The Government not only provides 35% subsidy on cost of machinery but also extends benefits like easy Bank finance, registrations of Udhyam, GST, FSSAI, free of cost DPR & uploading of case on MOFPI portal, hand holding in labelling, packaging, branding and marketing.
The Area Marketing Officer exhorted people to become job givers instead of becoming job seekers.
Dr Munish Sharma Senior Scientist SKUAST Jammu threw light on different aspects of the PMFME scheme and asked farmers, SHG members to become Atamnirbhar by establishing micro processing units under the PMFME scheme.
Prikshit Singh, Member DDC from Jaganoo asked people to take benefits of people friendly schemes & policies of the Central Government and establish micro processing units in agriculture. By adopting the latest practices in the field of agriculture and agriculture processing, farmers not only shall double their annual income but shall also escape problems like monkey menace.