Los Angeles, Mar 15 (PTI) Fans of filmmaker Nancy Meyers will have to wait a bit longer for her next feature as Netflix has pulled the plug on the director's new project "Paris Paramount".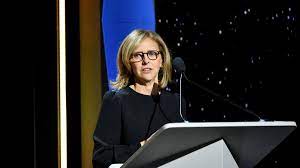 It was reported last week that Meyers is teaming up with the streamer for a comedy film with Hollywood stars Scarlett Johansson, Penelope Cruz, Michael Fassbender and Owen Wilson in negotiations to star.
According to entertainment news outlet Deadline, the reason for the project to fall apart was its budget, which was reported to be around USD 130 million.
Sources told the publication that Netflix and Meyers could not come to an agreement on the budget.
Meyers is said to have asked for a budget of at least USD 150 million, but the studio did not want to go over USD 130 million.
The story of "Paris Paramount" revolves around an above-the-line filmmaking duo who reunite (begrudgingly) on set after falling in and out of love with one another.
Meyers, known for popular titles such as "It's Complicated", "The Holiday" and "The Parent Trap", has also penned the script for the film.
The movie would have marked her first directorial venture since 2015's "The Intern", starring Robert De Niro and Anne Hathaway.