Ashok Koul interacts with beneficiaries, senior party leaders, prominent citizens in Amb Gharota under Booth Sashaktikaran Abhiyaan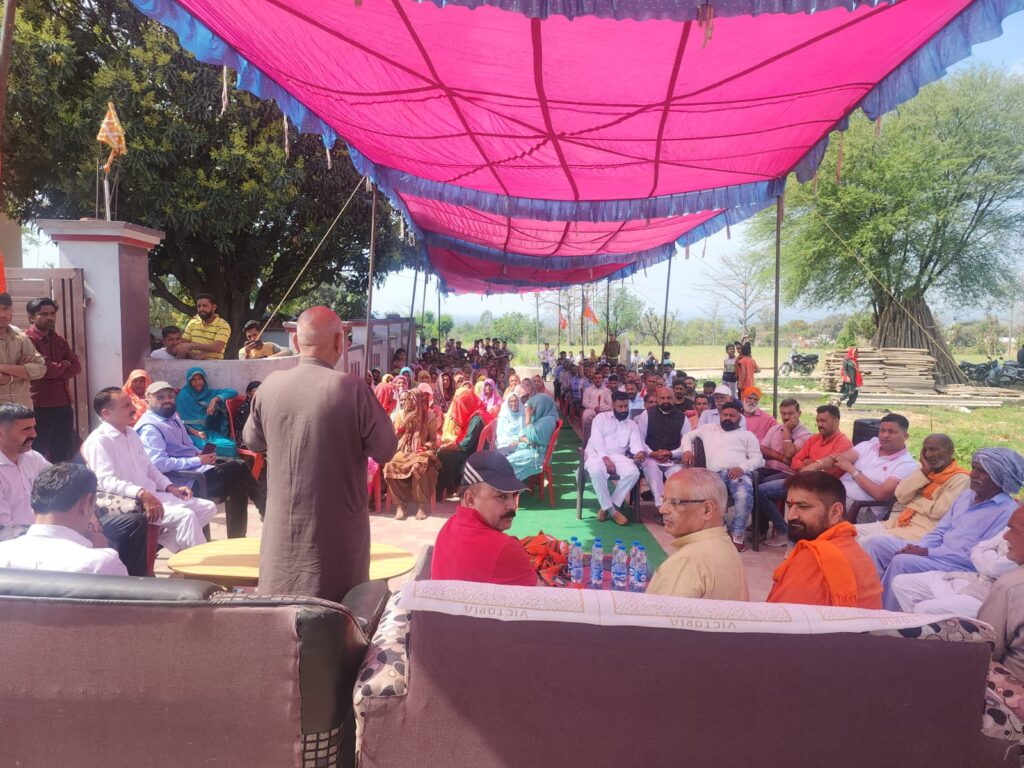 Several NC leaders with supporters join BJP
JAMMU, March 14: Ashok Koul, J&K BJP General Secretary (Org.) interacted with beneficiaries, senior party leaders, prominent citizens, senior leaders of Social Castes of Booth no. 46/47 Shakti Kendra no. 6 Mandal Ambgrota of Nagrota Constituency of District Jammu North while he conducted a comprehensive Pravas in the area.
Later, Koul also chaired various organizational meetings of Booth Sashaktikaran Abhiyan (booth strengthening campaign) at booth number 46/47 of Nagrota Assembly Constituency under Booth Sashaktikaran Abhiyaan.
Booth committees and Panna Pramukh of Voter Lists chiefly participated in the meetings.
DDC Chairperson Bharat Bhushan, Organizing Secretary Inderjeet Sharma, BJP District President Omi Khajuria, District General Secretary Ajay Sharma, SC Morcha District President Manohar Lal, Shakti Kendra President Langeh, Booth President Deepu, Booth President Pyare Lal  were among the other prominent present.
While interacting with prominent locals, Ashok Koul apprised them about the landmark decisions of the Modi government. He said that the Modi government has transformed the nation into a superpower and we are stronger than ever before, reestablishing Bharat as "Vishwa-Guru". He asked them to reinforce the hands of Modi ji to develop and strengthen the nation while making a robust society free from all social evils.
Talking to the party activists, he asked to extend the party's reach beyond all boundaries to every neglected part of society.
"Booth workers should help in creating awareness about these schemes among common people. Booth level workers are very important as they always play a great role in the victory of a party in elections," said Ashok Koul.
Koul emphasized that the Booth Sashaktikaran program would only be possible with the active participation of every BJP worker at the ground level.
Bharat Bhushan, on the occasion exhorted upon the party workers to work with dedication and on the mission mode to fortify their booths.
Omi Khajuria, on the occasion said that the strengthened Booth committees would form the strong base for the win of the party in forthcoming elections in Jammu & Kashmir.
Senior NC leaders Sham Lal, Ramesh Lal along with their supporters join BJP on the occasion. They assured the party seniors that they will work dedicatedly to strengthen the party.
(NOTE: PRESS RELEASE PUBLISHED AS RECEIVED)