50 cr to be utilized on development of Sports Infra, equipments, trainings in J&K schools
SED to conduct Yoga trainings in schools across UT
JAMMU, June 21: To commemorate the celebration of 9th International Yoga Day, Principal Secretary Education, Alok Kumar, today attended Yoga Day at Wave Mall Jammu.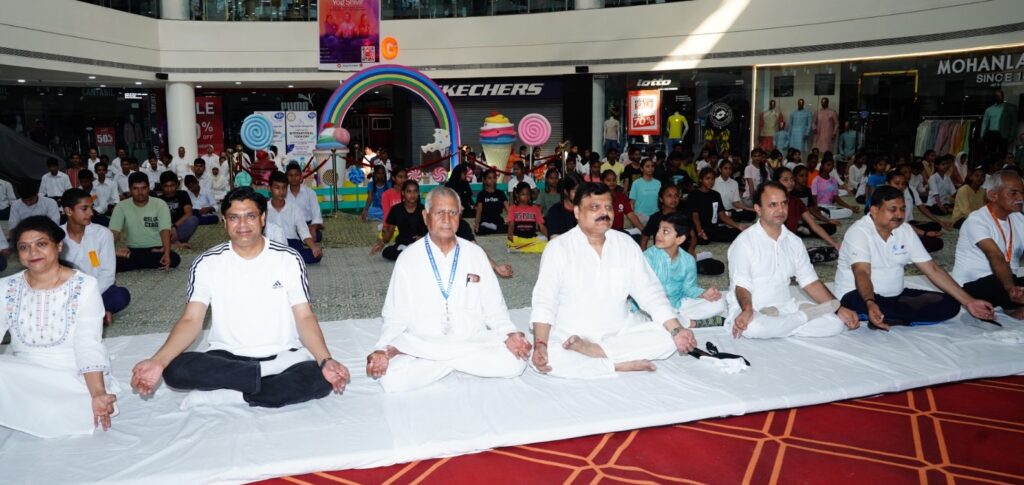 The event was organised by the Directorate of Samagra Shiksha, J&K, in collaboration with 92.7 Big FM and Bhartiya Yog Sansthan, where hundreds of students, teacher and locals participated.
Project Director Samagra Shiksha, Deep Raj, Director School Education Jammu, Ashok Sharma, Director Finance, Iftikhar Hussain, Special Secretary, Anu Behl, Director Planning, Ashu Gupta, Joint Director Planning, Deputy Director, Field Advisor, Pardhan Bhartiya Yog Sanstha, Cluster Head, Big 92.7 FM among other officers and officials graced the occasion.
The event started with the lighting of Lamp and Sarswati Vandhna followed by various Yog Asanas. Instructors from reputed institute demonstrated the Yog Asana for the participants along with its benefits. The experts demonstrated different Asanas starting from 'Surya Namaskar' to Bhujangasana (Cobra Pose). They explained that this ancient form of fitness with roots in India focuses on developing mental and physical balance besides boosting strength and flexibility.
While interacting with the students and media fraternity, Principal Secretary said that, Yoga is the best and only way to bring body and mind together for mental and physical fitness.  He said that, every year, on June 21, International Day of Yoga is being celebrated across the globe. This year, the 9th edition of the International Day of Yoga is being celebrated on the theme of "Yoga for Vasudhaiva Kutumbakam", which means One Earth, One Family, One Future and One Health. He said that School Education Department shall arrange Yoga Training for at least one school in each School Complex, covering around 800 schools across the UT, who shall work as ambassadors for other nearby institutions.
"Practicing Yoga and learning Yoga at an early age can have enormous advantages on the general well being as well as progress and prosperity of students, besides keeping us physically fit. It also promotes, peace and harmony and boost mental health to live a life free from illness," he added.
He informed that under Samagra Shiksha, focus is also being laid on health and wellbeing of students, for which 100 Playfields with financial implication of Rs. 20.00 crore are being developed (05 in each district). Besides, Rs. 20 crore are being provided for sports equipments for all schools across the UT. The department has also proposed to set up 188 Open Gyms, one each in all the zones of the UT, for undertaking physical activities, which will definitely help to keep the students away from the menace of drugs abuse.
He reiterated that, in the current year, JK Sports events shall be organized across all the schools of the UT, where not only students, but also the faculty shall play the games of their choice to keep the momentum. He also emphasized on the mission to make J&K NASHA MUKT, so that every individual may live a healthy and prosperous life. 
Later, Project Director, Samagra Shiksha, Engineer Deep Raj Kanethia, expressed gratitude to 92.7 Big FM team, for their association and making the event a grand success. "Yoga not only rejuvenates the body energy but also revitalizes the mind to regulate emotions and thought processes in a positive manner", he added.
He thanked all the participants including the management of Wave Mall, for providing the space to hold the event.